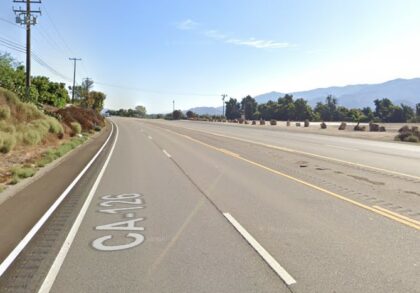 A two-vehicle crash injured two people and killed one near Fillmore, Ventura County, on Monday morning, February 27, 2023.
Reports confirmed that the fatal crash occurred around 10:15 a.m. on Highway 126, west of Cavin Road.
According to authorities, a 64-year-old was driving a 2000 Mercury eastbound when his vehicle drifted into oncoming westbound traffic for unknown reasons. It was not indicated if the weather was rainy, wet, or cool.
When responders arrived, the 64-year-old was discovered trapped, and his 66-year-old passenger was unresponsive. Both victims are from Palmdale.
The woman died on the spot. Her identity was withheld until her family was notified. With severe injuries, the man was taken to Ventura County Medical Center.
A 24-year-old Valencia woman driving a 2013 BMW was removed from her vehicle, treated at the scene, and transported to the hospital with significant injuries.
The highway was closed while officers investigated the crash. Officials reported that portions of the eastbound lanes were reopened for alternating traffic within an hour.
It was the highway's second fatality since Friday.
No arrests were made, and it was unclear whether drugs or alcohol were involved.
The Ventura County Fire Department responded and assisted in putting out a fire in one of the vehicles.

Fatal Two-Vehicle Collision Statistics
Fatality Analysis Reporting System Research shows 35,766 car-related deaths occurred in the United States in 2020. In 100 million miles traveled, 1.34 deaths occurred, or 11.7 deaths in 100,000 people.
Unintentional injuries account for the highest number of deaths among Americans ages 1 to 44. These crashes cause 2 million deaths and 1 million injuries each year.
Californians killed in car accidents increased by 23.5% in 2014 over 2013. A total of 4,856,777 auto accidents were reported in 2017, resulting in 3,898 fatalities and 276,823 injuries.
Statistics show that for every 100,000 people in the state, nine people were in 2018.
Safe driving requires following and leading distances, adhering to traffic laws, and keeping yourself and other road users safe. However, fatal car accidents continue to occur despite these precautions.
How Do I Get a Police Report Following an Accident
The local police department where this accident occurred can provide a police report. Your local police department can guide you through obtaining a copy of your report. If you cannot get a copy of your report directly from the police department, you can request one from us. Our online form can be used to do this.
When we receive your report request, we will begin the claims process without charging you any upfront fees. As part of this process, we will work closely with you until all the necessary documentation and information about your claim has been collected.
Trusted Car Accident Attorneys in Ventura County
Traumatized accident victims may require more effort and time during the recovery process. As a result, they may incur medical debt and be unable to work indefinitely.
Knowing where to begin after filing an insurance claim can be overwhelming. With our firm, you can rest assured that the best legal team will handle your complaint effectively.
Acquiring a settlement from the liable party or their insurer may alleviate your financial burden. You should consult an expert lawyer to guide you through the lengthy legal process to win your lawsuit.
Our Ventura County car accident attorneys at Arash Law, led by Arash Khorsandi, Esq., are dedicated to protecting our client's rights at all costs. You can rely on us to expedite your recovery and return to your routine immediately.
For more information about your legal options, dial (888) 488-1391 or through our website's "Do I Have A Case?" form.