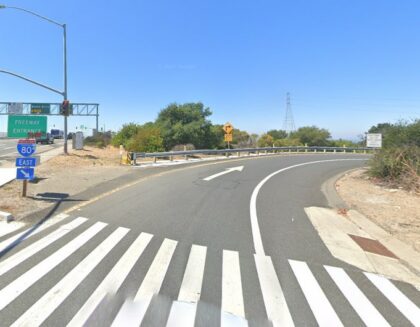 A big rig collision injured one person, and two kids were rescued in Contra Costa County on Tuesday morning, February 28, 2023.
Authorities confirmed the crash transpired around 7:00 a.m. on Interstate 80 near El Sobrante.
According to authorities, the children's green Camry collided with an orange crane truck.
A female passenger in the car was taken to the hospital, and the children's father arrived to pick them up.
One witness, Tony M., said he was driving a white semi-truck behind the crane and had to brake to avoid hitting other vehicles.
He hit the barrier and ripped the bumper off his truck while doing so, which he shrugged off.
No additional information was released, and officials did not immediately issue official statements.

Big Rig Collision Statistics
The US Department of Transportation report indicates that approximately 4,000 tractor-trailer accidents led to fatalities in 2015.
A 22% increase in deaths resulted from semi-truck collisions between 2009 and 2015. One out of ten fatal accidents in the same year involved tractor-trailers.
Big rigs, or commercial trucks, are standard on American highways. Other names for these trucks include 18-wheelers, tractor-trailers, and semi-trailers.
American highways and roads are plagued with some of the deadliest collisions involving large trucks. Tractor-trailer accidents are more harmful due to the disproportionately large size difference between them and passenger cars.
Investigations of 18-wheeler accidents must take several factors into account. Accidents involving large trucks are often caused by driver fatigue, tire blowouts, incapacitating or non-capacitating vehicle issues, excessive speed, lane drifting, and improper truck maneuvering.
How To Obtain a Police Report Following an Accident
We recognize that this is a challenging time for you. If you need a police report for this incident, we can assist you. Our team will assist you in obtaining the report by contacting the right people. After you have submitted your claim, you can proceed with securing compensation for your injuries.
You won't have to worry about paying anything upfront; we'll take care of everything. Our team will also ensure the responsible party's insurance company pays all your medical bills.
Feel free to contact us if you have any questions or concerns about how to move forward after an accident like this.
Truck Accident Attorneys in Contra Costa County
Severe injuries are frequently sustained in truck accidents. It may be difficult to file a lawsuit against a trucking company on your own, so discuss the matter with a competent truck accident lawyer.
Professional truck drivers must follow all laws and regulations. Their massive vehicles are usually to blame for accidents involving them. A victim may sue the responsible party if an accident results in serious injuries.
Our Contra Costa County truck accident attorneys at Arash Law, headed by Arash Khorsandi, Esq., can assist you with your claim if you've been injured in a truck accident. Allow our legal team to fight for your right to just compensation.
They can assist you in obtaining the best result for your claim owing to their extensive training and experience.
You can reach us at (888) 488-1391 or use our website's "Do I Have A Case?" form.