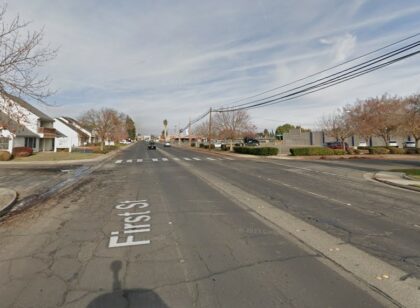 A pedestrian crash left two minors with injuries in Atwater on Wednesday night, March 1, 2023.
According to authorities, the collision transpired around 7:00 p.m. at First Street and Fortuna Avenue.
Reports indicated that the two minors were crossing the street, but whether they were in the crosswalk remains unclear.
The victims were both injured in minor to moderate ways.
The driver continued to stay at the scene and cooperated with authorities.
The driver is not suspected of being high on drugs or alcohol.
The investigation into the crash is ongoing.

Pedestrian Accident Statistics
Per the Governors Highway Safety Association, 7,485 pedestrian fatalities occurred in 2021, a 40-year high.
Speed-related pedestrian deaths increased by 8.6% in 2020, compared to 7.2% in 2019. Speed significantly impacts a pedestrian's safety. Pedestrian mortality rises sharply with vehicle speed, reaching 90% at 58 mph from 10% at 23 mph.
Pedestrian accidents frequently result in tragic outcomes. A collision between two vehicles will almost certainly result in severe pedestrian injuries.
Today's roads have more pedestrian injuries and fatalities than ever before. Historically, pedestrians have been the most vulnerable to car accidents.
Pedestrians should walk on sidewalks, avoid drinking and using drugs, and cross parking lots and driveways cautiously. This reduces their chances of being injured in these collisions.
How Should I Deal with an Accident?
Law enforcement should file a report at the scene of the collision. Tell the truth if you are interviewed at the location of the accident about what you witnessed and experienced. Be careful with your words and avoid making assumptions about things you don't understand. A victim's anxiety and shock immediately following an accident can cause them to apologize profusely, even if they did not cause the accident. Insurance companies can use this act of kindness to argue that you admitted fault to avoid paying out.
California's high traffic accident rate has injured pedestrians, cyclists, and vehicle passengers.
Our skilled lawyers can assist you whether you were in a vehicle or not at the time of the accident. As you focus on getting well, we will pursue the money you deserve under the law and inform you of our progress.
Reliable Pedestrian Accident Attorneys in Atwater
Even when a crosswalk is unnecessary, Pedestrian safety should always take precedence. Pedestrians have the right of way if they collide with another vehicle. The negligent party may be questioned if suspected of breaking the law.
Filing an insurance claim can be a complicated process. Working with our firm can lead to a successful outcome in your lawsuit.
It may be possible for the liable party or insurer to provide compensation to reduce your financial burden. Hence, hiring a lawyer familiar with the legal system is advisable to help you win your case and guide you through this challenging process.
Throughout every case, our Atwater pedestrian accident attorneys at Arash Law, headed by Arash Khorsandi, Esq., place the needs of our clients first. We strive to return you to work as soon as possible after a severe injury.
Contact us at (888) 488-1391 for more information about your legal options, or complete our "Do I Have a Case?" form online.