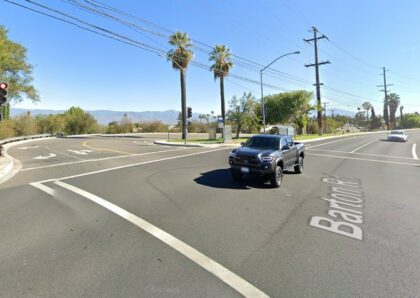 A 40-year-old man was seriously injured after being struck by a vehicle that fled the scene in Loma Linda on Tuesday evening, February 28, 2023.
The San Bernardino County Sheriff's Department reported that the hit-and-run crash occurred around 7:43 p.m. at the Barton Road and University Avenue intersection.
The responding officers located the victim upon arrival in the center median, lying on the ground along Barton's westbound lanes. The unidentified man received medical attention at the scene before being taken to a nearby hospital.
The victim, according to investigators, was struck by a car that was driving west on Barton. After the collision, the unspecified vehicle did not stop and sped off in the direction of Waterman Avenue.
You can call the County's Sheriff's Department if you have any information about this investigation.

Hit-and-Run Accident Statistics
It is illegal to leave the scene of an accident in the United States without helping the injured and contacting the authorities. Drivers who cause accidents and then flee the scene face criminal consequences, including jail time.
A total of 737,100 hit-and-run accidents occurred in the United States in 2015, according to data from the National Highway Traffic Safety Administration. This statistic suggested that there is a hit-and-run in the United States every 43 seconds. In 2016, 2,049 people lost their lives due to hit-and-run accidents, the highest number ever recorded.
Throughout the years 2010-2019, at least 3,056 persons were killed in 2,948 hit-and-run accidents in California. The fatalities from these incidents are disproportionately high in California compared to the rest of the country.
What to Do After a Hit-and-Run Accident
In the event that you or a loved one have been in a hit-and-run crash, it is imperative that you contact the authorities immediately. Avoid making assumptions and simply state what happened while dealing with authorities or insurance companies. It's possible that the victims might apologize, even if they did nothing wrong. If the victim acts in such a way, the insurance company may use the behavior as evidence against a claim.
Please get in touch with the relevant authorities to get a copy of the report. For your convenience, this site also has an online form that we suggest you fill out. As soon as we obtain the report, we'll start working on your request. One of our renowned attorneys will analyze your insurance claim at no additional cost.
Hit-and-Run Accident Victim Lawyers in San Bernardino County
In California, anyone hurt in hit-and-run accidents can make a claim to the insurance company or take legal action to recover damages. If you or a loved one have been severely hurt or killed due to the negligence of another, please do not hesitate to get in touch with one of our highly recognized attorneys.
Our trusted San Bernardino County hit-and-run accident victim lawyers at Arash Law, led by Arash Khorsandi Esq., have experience and accolades advocating for accident victims, with awarded compensation totaling $400 million. Call (888) 488-1391 now or click the "Do I Have a Case?" on our website to set up a free consultation with one of our attorneys.