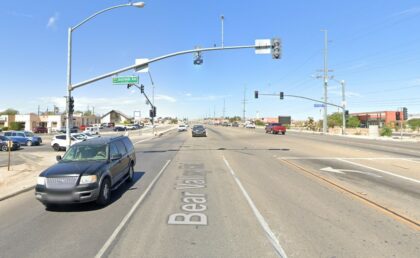 Two female occupants were hospitalized after a DUI collision in Victorville on Wednesday night, March 1, 2023.
Authorities confirmed that the crash occurred around 6:48 p.m. at the Bear Valley Road and Jacaranda Road intersection.
Witnesses stated that the suspect's white Kia Optima vehicle collided with a red Ford Explorer before continuing westbound on Bear Valley Road. Both cars were severely damaged.
The Explorer's driver, a 62-year-old female, and her passenger, a 19-year-old female, were both taken to a nearby hospital.
Deputies discovered the 32-year-old driver, identified as Casey T., near Ridgecrest and Francesca Road.
According to reports, the driver had apparent signs of intoxication and was uncooperative when deputies attempted a field sobriety test.
She was charged with felony driving while intoxicated causing bodily harm, felony driving with a blood alcohol level greater than.08%, and felony hit and run with injuries.
She was also arrested on a $250,000 bail.
Anyone with information about this investigation is asked to call Deputy Wolff at the Victorville Police Department at (760) 241-2911 or Sheriff's Dispatch at (760) 956-5001.

DUI Collision Statistics
According to the National Highway Traffic Safety Administration, one person dies in a drunk-driving crash every 45 minutes in the United States.
Approximately 11,654 alcohol-related traffic fatalities are expected in 2020, an increase of 14% from 2019.
California DUI Management Information System data shows that alcohol-related crash fatalities increased by 5.8% in 2017 after rising by 6.9% in 2016.
Driving under the influence of alcohol poses a danger to the environment, other road users, and drivers. Approximately 2 billion gallons of fuel are wasted yearly due to drunken drivers' reckless driving.
As a result of these statistics, everyone should monitor their drinking habits and never drive after excessive consumption of alcohol.
What To Do After an Accident Occurred
Make sure that the police arrive at the scene of the collision and file a report. Be honest when describing what you witnessed and experienced at the accident scene. If you are unfamiliar with something, use your words carefully and avoid making assumptions. Anxiety and shock can cause victims to apologize profusely after an accident, even when they aren't to blame. Depending on the insurer, this act of kindness can be construed as proof that you admitted fault and avoided paying out.
Traffic accidents in California have caused injuries to pedestrians, cyclists, and passengers in vehicles. Whatever vehicle you were in during the accident, our experienced lawyers can assist you. While you concentrate on improving, we'll pursue the money you're owed under the law and keep you updated as our progress goes.
DUI Accident Lawyers for Victims in Victorville
Accident victims rarely fully recover and regain their health after an accident. Accordingly, California law covers any injury caused by a vehicle.
A personal injury lawsuit against a negligent driver could lead to compensation for your injuries. Victims may face wage loss, extended rehabilitation, or high medical expenses.
You can count on our Victorville DUI accident lawyers at Arash Law, headed by Arash Khorsandi, Esq., who aggressively pursue justice for clients injured in these accidents. Drunk drivers who cause accidents must pay the consequences of their actions.
We strive to get our clients the highest possible settlement to afford treatment and provide for their families.
Call us today at (888) 488-1391 or click on the "Do I Have A Case?" link on our website if you or a loved one was injured in a California car accident caused by a drunk driver.