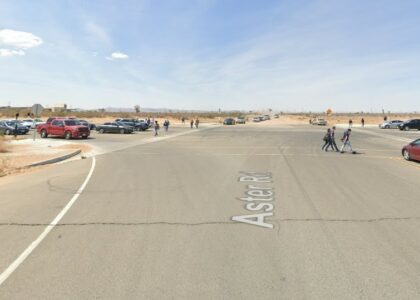 Two people were hospitalized following a collision between a quad and a vehicle in Adelanto on Tuesday afternoon, February 28, 2023.
According to the Victor Valley Sheriff's Station, the crash occurred at 12:58 p.m. near Joshua Street and Aster Road, near Adelanto High School.
An adult man was reportedly driving a white Toyota Camry at about 30 mph north on Aster Road while a 15-year-old male juvenile was traveling west on Joshua Street on a quad at an unspecified speed.
Both drivers collided with each other after the juvenile ran the stop sign. He was ejected from his Quad and landed on the road's shoulder. He was reportedly wearing a helmet.
The young man sustained life-threatening injuries and was airlifted to a trauma center, while the Camry driver was taken via ambulance to a nearby hospital. No updates on their current conditions and identities were released.
Anybody with information is urged to call the authorities as the investigation continues.

Two-Vehicle Accident Statistics
The majority of accidental deaths and serious injuries in the United States occur as a result of car accidents. Also, more than ten million people are injured and more than two million people are killed worldwide as a result of traffic accidents each year.
Despite a three-year decline, the number of preventable deaths on American roads rose by 8.3 percent in 2020, according to the National Safety Council. There were 39,107 fatalities caused by automobile accidents in the United States in 2019. By the year 2020, the figure had increased to 42,338.
Sadly, 3,847 people lost their lives in car accidents around the Golden State of California in 2020. Of the total number of fatalities, 1,587 or 41% were caused by wrecks involving two or more vehicles, while 2,260 or 59% were the results of single-vehicle accidents.
What to Do After a Car Accident
Please inform the police right away if you or a loved one has been involved in a car accident. When communicating with law enforcement or insurance companies, it is best to stick to the facts and avoid making assumptions. The victims may express regret even if they have done nothing wrong. The victim's actions could be used as evidence by the insurance company to deny the claim.
To obtain a copy of the report, please contact the appropriate authorities. There is also a handy online form for you to fill out on this page. We'll go to work on your request as soon as we can get our hands on the report. We will provide you with a free evaluation of your insurance claim by one of our highly regarded attorneys.
Car Accident Lawyers in San Bernardino County
If you or a loved one has been hurt in a car accident and you think you may have a personal injury or wrongful death case, we invite you to contact our firm for a free consultation. If you have any concerns about submitting an insurance claim or if you would want to consult with an attorney first, please get in touch.
Our trusted San Bernardino County car accident lawyers at Arash Law, led by Arash Khorsandi Esq., have the recognition and vast experience to advocate for accident victims, with awarded compensation totaling $400 million as of yet. Contact (888) 488-1391 or click the "Do I Have a Case?" on our website to schedule a free consultation with one of our lawyers.