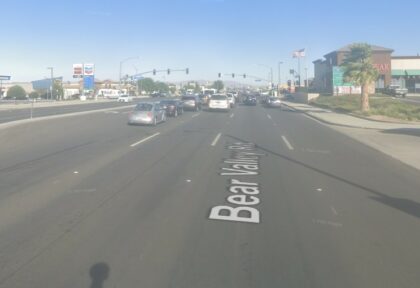 A 44-year-old man was gravely injured after being struck by a vehicle while crossing a street in Victorville on Tuesday morning, February 28, 2023.
According to the Victorville Police Department, the pedestrian collision occurred early morning, around 1:08 a.m., at the Bear Valley Road and Mall Boulevard intersection near the Mall of Victor Valley.
The responding deputies learned upon their arrival that the pedestrian was struck by an eastbound Toyota Prius while attempting to cross Bear Valley Road outside of a crosswalk.
The unidentified man was sent to a trauma center after sustaining serious wounds to his lower extremities. No further updates on his current condition were immediately available.
The vehicle's 30-year-old female driver stayed on the scene and was cooperative with law officials. They said there was no evidence the motorist was under the influence while driving.
Call the Victorville Police if you have any information concerning the collision as the investigation continues.

Pedestrian Accident Statistics
Governors Highway Safety Association statistics showed a 14% decrease in fatalities due to automobile accidents between 2007 and 2016. Yet, the percentage of those killed as pedestrians increased by 27% throughout the same time period. With these statistics, it appears that walking along U.S. roads is getting increasingly dangerous.
There were 5,977 pedestrian deaths in the US in 2016. Around 88 people were dying per minute by the end of that year. In 2017, there were around 137,000 pedestrian injuries that required hospitalization.
In 2012, roughly 14,000 California pedestrians were injured and 893 were killed. Many studies have concluded that this is the leading cause of pedestrian injuries and deaths in the Golden State.
What to Do After a Pedestrian Accident
A pedestrian accident must be reported right away if you or a loved one has been involved in one. You should be as factual as possible and avoid making any assumptions while communicating with the authorities or an insurance company.
Victims who know they are innocent may yet feel compelled to apologize. An insurer might think twice about paying a claim if the victim displays such behavior.
Simply ask the division that dealt with the case for a copy of the report. There's also an online form for your use on this page. After we have the report, we will go to work on your request right away. Our well-respected attorneys will review your insurance claim at no extra cost to you.
Pedestrian Accident Lawyers in San Bernardino County
In the event of a collision, pedestrians in California have the same protections as other road users, including drivers, bikers, and passengers. If you or a loved one were hurt in a car crash that wasn't your fault, you may be able to file a personal injury or wrongful death lawsuit.
Our trusted San Bernardino County pedestrian accident lawyers at Arash Law, led by Arash Khorsandi, Esq., have extensive experience and accolades advocating for accident victims. Our clients have been awarded compensation totaling $400 million.
Call (888) 488-1391 now or click the "Do I Have a Case?" on our website to set up a free consultation with one of our attorneys.