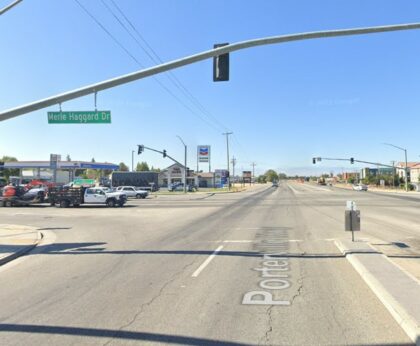 A 73-year-old woman was killed following a two-vehicle collision north of Bakersfield on Wednesday afternoon, March 01, 2023.
According to the California Highway Patrol, the fatal crash occurred at 3:42 p.m. on Highway 65 and Merle Haggard Drive near Meadows Field Airport.
The elderly woman, identified by the coroner officials as Maria A. of Bakersfield, was reportedly driving along the highway when she collided with another vehicle.
CHP officers discovered the victim. She was transported to Kern Medical, where she later succumbed to her serious injuries.
No further details were immediately available on what caused the crash and the other driver's condition.
The investigation continues.

Fatal Two-Vehicle Accident Statistics
Automobile accidents are the number one cause of a disproportionate share of all unintentional deaths and injuries in the United States. Around two million people each year are killed and ten million are injured as a result of accidents all over the world.
After three years of decline, the National Safety Council reported an 8.3 percent increase in traffic-related fatalities in 2020. There were 39,107 fatalities in traffic accidents in the United States in 2019. There were 42,338 of them in 2020.
There were 3,847 fatalities due to traffic accidents reported in California in 2020. The majority of the fatalities, 2,260 (59%), occurred in single-car accidents, while 41%, or 1,587 deaths, occurred in multiple-vehicle crashes.
What to Do After a Car Accident
Call 911 immediately if you or a loved one are involved in a car accident. Whether communicating with law enforcement or an insurance company, providing as much detail as possible helps everyone involved. Don't make assumptions. Some of the victims might apologize even though they had nothing to do with the catastrophe. The insurance company could use this against you if you ever file a claim.
A completed investigative report is available upon request; just get in touch with the proper authority. There is also an online form for you to fill out on this site. We'll go to work on your request as soon as we can get our hands on the report. You can get free advice from our widely respected lawyer on how to get the most out of your insurance policy.
Car Accident Lawyers in Kern County
If you've been wounded in a car crash, you have the right to a free consultation with a local personal injury or wrongful death lawyer. Please get in touch with us if you have questions about submitting a claim or would like to consult with an attorney before doing so.
Our trusted Kern County car accident lawyers at Arash Law, led by Arash Khorsandi Esq., have the recognition and vast experience to advocate for accident victims, with awarded compensation totaling $400 million as of yet. Contact (888) 488-1391 or click the "Do I Have a Case?" on our website to schedule a free consultation with one of our lawyers.