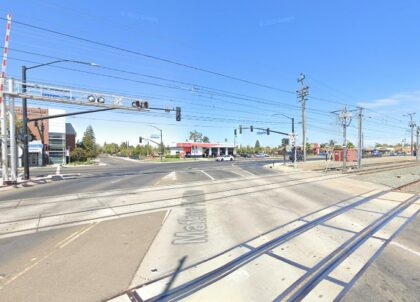 One person was hospitalized after a collision between a pickup truck and a Sacramento Regional Transit light rail train in Rancho Cordova on Wednesday afternoon, March 08, 2023.
The Sacramento Metro Fire and the Sacramento County Sheriff's Office reported that the collision occurred at about 12:50 p.m. near Folsom Boulevard and Mather Field Road along the Gold Line.
A black pickup truck was reportedly struck by the light rail train, pushing it into a utility pole with significant damage. The driver of the pickup was transported to a nearby hospital with minor to moderate injuries.
No further information was released on the occupants of the train. SacRT stated that a bus bridge was in place between Cordova Town Center and Butterfield stations until the crash site was cleared.
The collision is still being investigated. No other details were immediately available.

Train Accident Statistics
In 2016, 893 people were killed in train accidents, a 20% increase over the previous year's figure of 744. The number of people taken to hospitals as a result of severe injuries rose by 4%, or 5,780 people, between 2020 and 2021. Between 2020 and 2021, the number of fatalities at highway-rail grade crossings increased by 21%.
Almost a third of victims in train accidents had made a complete recovery. It is estimated that 266 of the 893 pedestrian fatalities in 2021 were the result of train crashes.
Over the course of that year, there were around 3,216 wounded commuters. If these wounds were severe enough, they might prove fatal. Death tolls from collisions between automobiles and trains at grade crossings totaled 66 in the United States in 2015.
What to Do After a Train Accident
If you or a loved one are in a train accident, dial 911 immediately. When talking to the police or your insurance company, give straightforward answers and avoid making assumptions. It's possible that some of the victims would apologize, even though they contributed nothing to the tragedy. If you ever make a claim, the insurance company could use this behavior as evidence against you.
A finished investigation report can be provided upon request; all you have to do is get in touch with the authorities. On this page, you'll also find an online form that you can fill out. As soon as we have access to the report, we will begin working on your request. Our highly regarded attorney is available to provide you with no-cost consultation on making the most of your insurance coverage.
Train Accident Lawyers in Sacramento County
You should talk to an attorney right away if you or a loved one has been hurt in a train accident in California. If an insurance claim has been or will be submitted due to an accident or wrongful death, our reputable legal firm is happy to provide a free consultation and act as a neutral mediator.
Our award-winning Sacramento County train accident lawyers at Arash Law, led by Arash Khorsandi Esq., have extensive experience and expertise to advocate for accident victims, with awarded compensation totaling $400 million so far. Contact (888) 488-1391 or click the "Do I Have a Case?" on our website to schedule a free consultation with one of our lawyers.