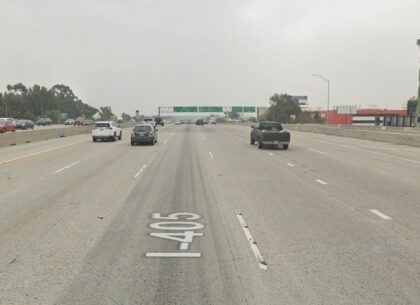 One individual was severely injured following a multi-vehicle collision in Inglewood on Wednesday morning, March 01, 2023.
The California Highway Patrol reported that the five-vehicle collision occurred around 5:02 a.m. on 405 Freeway's southbound lanes near West Century Boulevard.
The first responders who arrived at the scene found five unspecified vehicles with crash damage. CHP officers are currently investigating the circumstances that led to the collision.
Emergency responders assessed all the motorists involved and assisted at least one of them who suffered severe injuries. The unidentified victim was rushed to the hospital in an unknown condition.
The crash resulted in the closure of all southbound lanes of 405 Freeway at Century Boulevard.

Multi-Vehicle Accident Statistics
In the United States, automobile accidents are the leading cause of both accidental deaths and serious injuries. Additionally, approximately ten million people are hurt and two million are killed every year because of car crashes around the world.
According to the National Safety Council, the number of avoidable deaths on America's highways increased in 2020, with a rise of 8.3% in mortality after three years of decline. In 2019, 39,107 persons lost their lives in car accidents across the United States. That number rose to 42,338 by 2020.
In the same year, 2020, 3,847 people lost their lives in automobile accidents in California. There were 2,260 (59%) people killed in single-vehicle incidents and 1,587 (41%) killed in accidents involving two or more cars.
What to Do After a Car Accident
After a car crash, calling the authorities right away is essential. When talking with authorities or an insurance company, it's best to stick to the facts and avoid making any assumptions. It's possible for blameless victims to apologize anyhow. The insurance company can consider this type of action as evidence to deny a claim.
You can receive a copy of the report by asking for it from the relevant authority. You can also fill out the online form on this page. We will begin working on your request as soon as we receive the report. Your insurance claim, regardless of size, will be thoroughly examined at no cost to you.
Car Accident Lawyers in Los Angeles County
We offer free consultations with highly regarded attorneys to anyone who has been injured or lost a loved one in an auto accident and thinks they may have a case for personal injury or wrongful death. Feel free to get in touch with us if you have any questions or would like to speak with an attorney before filing an insurance claim.
Our trusted Los Angeles County car accident lawyers at Arash Law, led by Arash Khorsandi Esq., have the recognition and vast experience to advocate for accident victims, with awarded compensation totaling $400 million as of yet. Contact (888) 488-1391 or click the "Do I Have a Case?" on our website to schedule a free consultation with one of our lawyers.