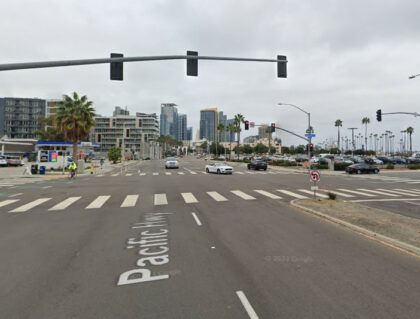 A pedestrian, identified as Jon H., sustained severe injuries during a hit-and-run collision in San Diego early Wednesday morning, March 1, 2023.
According to reports, the crash transpired around 5:45 a.m. between Pacific Highway and West Hawthorn Street.
Authorities stated that the victim was in a crosswalk when a car turning right hit him and fled the scene.
The victim's sister told authorities that the crosswalk should be safe, but it has felt scary for her since the collision.
The man's wife indicated that the victim incurred several fractures and suffered a traumatic brain injury.
The couple resides in Washington, DC, and the man was on a business trip in San Diego and was crossing the street to get to his rental car to get to work.
They are compelled to remain in San Diego for the foreseeable future until doctors clear him to return home.
Officials confirmed they had no information on the crash as of Sunday evening.
The victim's wife claimed that she called the police on Saturday to make sure a report had been filed.
Anyone with information about the crash is encouraged to contact the victim's family.

Hit-And-Run Collision Statistics
In recent years, the number of hit-and-run accidents has increased. Pedestrians were killed in 24% of hit-and-run accidents in 2020.
Compared to other states, California has the highest number of pedestrian fatalities. Over 14,000 pedestrian injuries happened in California in 2012, and 893 pedestrians died.
During a hit-and-run accident, two vehicles collide, and the fleeing vehicle fails to stop and help the injured party. Besides the painful injuries caused by injury crashes, hit-and-run accidents can have negative consequences because victims do not receive immediate medical attention.
A pedestrian's life is at risk if the driver fails to yield to them or suddenly brakes abruptly.
To prevent injuries, pedestrians should walk on sidewalks whenever possible, avoid drugs and alcohol, and carefully cross parking lots and driveways.
What Should You Do After an Accident
When involved in a vehicle collision, you should always come to a complete stop. A hit-and-run is a criminal offense. The police or CHP should be immediately notified if anyone is killed or injured in a collision and law enforcement is not yet on the scene. Any occupant of a vehicle involved in a crash that is physically incapable of reporting the accident to police or CHP must do so.
Remove your vehicle from the road in the absence of injuries or deaths. If a vehicle isn't moved or removed from the street or highway, it may be impounded by authorities.
Hit-And-Run Accident Lawyers in San Diego
It is essential to seek legal advice after being hit and run, even if the negligent driver cannot be found.
You can discuss your concerns with your lawyer, mainly if you are unfamiliar with the legal system. They will handle all the insurance paperwork for you, ensuring accuracy and protecting your interests. If you want to improve your settlement with your insurance company, you should hire a lawyer.
Our reputable San Diego hit-and-run accident lawyers at Arash Law, led by Arash Khorsandi, Esq., have a proven track record of successfully defending injured victims in court. With our assistance, clients have received over $400 million in compensation.
For a free case evaluation, call us at (888) 488-1391 or visit our website and click the "Do I Have a Case?" link.