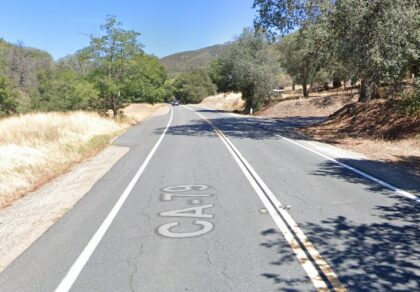 A training ride that resulted in a motorcycle collision injured three officers in Santa Ysabel, San Diego County, on March 1, 2023.
According to authorities, the crash transpired around 3:45 p.m. on State Route 79 near School House Canyon Road.
Reports indicated that a group of about 20 officers from law enforcement agencies outside of San Diego County were riding around when seven of them crashed.
Seven officers from various agencies were involved in a motorcycle training ride through wet weather.
As a result, one officer was injured in the crash and had to be taken to the hospital. A second person was hospitalized with unspecified minor injuries; a third was evaluated by medics at the crash scene but was not hospitalized.
At least four motorcycles had to be towed away from the accident. Snow was partially to blame for the collision.
The Santa Ysabel area had received slightly more than 2 inches of rain in three days as of 6:30 p.m. Wednesday.
Officers are investigating the crash and have not specified the associated agencies of the officers involved.

Motorcycle Collision Statistics
According to the Statewide Integrated Traffic Records System, 13,907 motorcycle accidents caused injuries in 2017.
Despite accounting for 0.6% of vehicle miles traveled and 3% of registrations in the United States, motorcycles caused 14% of traffic fatalities, 18% of occupant fatalities, and 4% of occupant injuries in 2020.
In 2020, California registered the most motorcycles on both a personal and commercial level. The Golden State accounts for nearly 12% of the country's population and has the highest concentration of motorcycles.
Motorcyclists should avoid escape routes and collision traps because automobiles often miss them. Keep your level of expertise and the situation in mind when driving.
Riding your bike on the road requires understanding the risks and statistics involved. It is recommended to always wear a helmet and remain alert while riding. This information may be life-saving in some instances.
What To Do After an Accident
We understand that this is a trying time for you. In this case, we can assist you in obtaining a police report. We will assist you in obtaining the report by contacting the appropriate individuals. After that, you can file your compensation claim and begin the claim process.
Unlike other insurance companies, we will handle everything for you, including filing your claim on your behalf. Additionally, we will assist you in obtaining payment from the responsible party's insurance company.
We can gladly assist you with any questions or concerns after such an accident.
Award-Winning Motorcycle Accident Lawyers in San Diego County
A motorcycle accident can be fatal for both the rider and the victim. Everything can change in an instant. Those who cannot afford treatment may suffer temporary functional loss and long-term consequences.
By filing a personal injury lawsuit, victims involved in such collisions may seek compensation for any losses, including economic and non-economic damages.
Our San Diego County motorcycle accident lawyers at Arash Law, headed by Arash Khorsandi, Esq., can assist you if you need legal representation following a traumatic motorcycle accident. Their extensive experience guarantees you the assistance and maximum settlement you deserve.
Regardless of the case's complexity, our firm is committed to obtaining client compensation. To schedule a free consultation, call our hotline at (888) 488-1391 or complete the online "Do I Have A Case?" form.