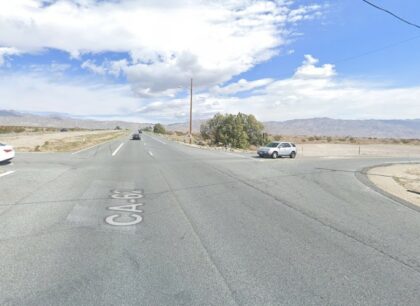 Two motorists were injured following a collision between a vehicle and a semi-truck in Desert Hot Springs on Thursday afternoon, March 02, 2023.
According to the local authorities, the two-vehicle collision occurred at about 3:45 p.m. at the intersection of State Route 62 and Pierson Boulevard.
The circumstances leading to the crash remain unclear at this point, but an SUV and semi-truck hauling carrots were involved, causing the truck to overturn.
Minor injuries were sustained by both drivers. No further details on their identities and current conditions were released.
At least two crosses were seen directly next to the SUV involved, indicating fatal collisions in the past in the area.
No other information was immediately available as the investigation continued.

Truck Accident Statistics
In the case of an accident, those in a truck are better protected than those in a car or other smaller vehicles. Thus, this explains why people riding in smaller cars have a higher risk of being killed or injured in accidents. Even if only one truck is involved, the results of an accident could be catastrophic.
The National Highway Traffic Safety Administration said 4,965 individuals were killed in the United States in collisions involving heavy trucks in 2020. Total fatalities in 2019 were 5,032, signifying a 5% decrease in 2020's total. Still, trucks are directly responsible for 71% of all traffic-related fatalities in the US.
Heavy trucks accounted for 8.9% of all vehicles involved in fatal accidents in the United States in 2020. In 2015, truck-car accidents in California claimed the lives of at least 90 individuals. Only two other states besides Texas and Florida had fifty or more truck-related fatalities that year.
What to Do After a Truck Accident
You must inform the police right away if you or a loved one has been involved in a truck collision. When communicating with legal authorities or an insurance company, it is essential to be forthright and not make any assumptions. Victims may express regret, even if they played no role in the incident. Insurers may find such actions to be cause for a claim denial.
Get in touch with the relevant offices to ask for a copy of the report. For your convenience, we have included a short online form on this page that you can fill out. We'll go to work on your request as soon as we can get our hands on the report. Your insurance claim will be reviewed by one of our best lawyers at no extra cost to you.
Truck Accident Lawyers in Riverside County
Victims of truck accidents in the Golden State can seek compensation for their physical injuries, financial losses, and emotional distress in a civil court proceeding. Do not hesitate to get in touch with us if you have any questions or concerns about your insurance claim or if you want to speak with one of our seasoned attorneys about the possibility of us assisting you in obtaining a reasonable payment.
Our trusted Riverside County truck accident lawyers at Arash Law, led by Arash Khorsandi, Esq., have extensive experience and accolades advocating for accident victims, with awarded compensation totaling $400 million. Call (888) 488-1391 now or click the "Do I Have a Case?" on our website to set up a free consultation with one of our attorneys.