A 26-year-old man identified as Julian Sebastien K. was arrested after attempting to attack an officer with a stolen baseball bat at an El Cajon Walmart on Friday afternoon, March 4, 2022.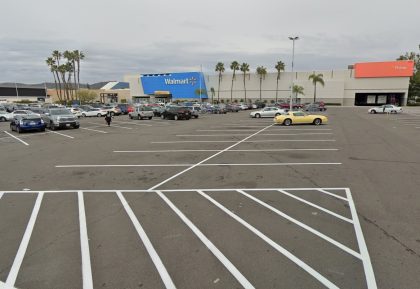 The incident transpired at approximately 3:39 p.m. at a local Walmart on the 600 block of Fletcher Parkway.
An El Cajon officer received a 911 call from Walmart. When he arrived at the scene, he found the suspect in the parking lot with a stolen bat.
The officer ordered the suspect to drop the bat, but he charged at the officer and attempted to swing the bat over the officer's head. Fortunately, the officer deflected the blow with his arm and tackled the suspect.
Backup later arrived at the scene, and the suspect was subdued while he was violently struggling. The suspect was arrested on robbery-related charges and attempted murder of a police officer.
The case is currently under further investigation. Anyone that can give more information about the incident is urged to call the El Cajon Police Department at 619-579-3311.


Premises Liability Facts
It's been over a decade since Walmart first opened its doors in the United States. With over 11,000 retail locations in 28 countries and 11 e-commerce platforms, Walmart is the world's largest retailer. We have 2.2 million employees worldwide, with 1.3 million in the United States alone.
Walmart is one of the largest employers in the United States. In addition, they have consistently ranked first or second among the world's most lucrative corporations. They had global net sales of moreover $5 billion at the end of 2014.
A property owner might be held liable for an attack or assault that takes place on their land in certain circumstances. Anyone who enters or does business on the premises of a business must be protected from harm. An assault on an authorized visitor to a property who was injured due to the assault occurring on the property is often the result of a premises liability claim alleging negligent security measures.
However, proving negligence on the property owner is not always an easy task in these situations. Because the property owner was negligent in their actions, you will need to show that you were assaulted on their property because of their negligence.
Arash Law's California accident attorneys are ready to assist anyone who has been harmed by the negligence of businesses such as Walmart in holding them accountable. Assault, sexual assault, and other forms of physical violence are among the cases we take on for Walmart customers.
California Premises Liability Lawyers for Victims in San Diego County
Do not assume that just because you got medical care and filed an accident report, the property owner will go ahead and offer you compensation for your injuries; property owners and their insurers are not eager to pay out settlements unless they are forced to.
Working with a premises liability attorney can improve your chances of recovering the settlement amount you deserve. As soon as you call the office of Arash Law, we will begin building your claim, working with interested parties, calculating your damages, and negotiating your settlement.
Our San Diego County premises liability lawyers will work hard to investigate your case and gather evidence to substantiate your claim that the property owner knew or should have known of the incident. Types of evidence might include the statements of other employees or witnesses who knew of the condition, the results of inspections and surveys of the property, video surveillance, and more.
Call Arash Law today at (888) 488-1391 or contact us online to schedule your free no-obligation premises liability case review.