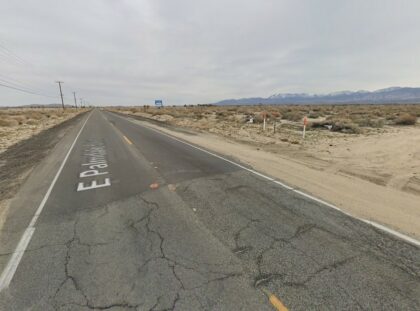 A scooter collision claimed the life of a teenage boy in Palmdale on Sunday night, March 5, 2023.
The fatal crash occurred around 6:36 p.m. on Palmdale Boulevard at 80th Street East.
According to authorities, the teen was riding a kick scooter eastbound when hit by a westbound white Toyota Rav4.
The SUV incurred hood and windshield damage, as well as the scooter in the street.
Paramedics rushed the boy to Antelope Valley Hospital, where he died at 7:19 p.m.
Officials stated that there are no street lights along Palmdale Boulevard in that area.

Fatal Scooter Accident Statistics
As per the World Health Organization, powered two- and three-wheeled vehicles, such as motorcycles, mopeds, scooters, and electrical bikes (e-bikes), account for nearly 30% of all road fatalities, and the figure is rising.
The Consumer Product Safety Commission stated that micro-mobility device injuries increased 127% from 2017 to 2021, to 77,200, and deaths increased from 5 to 48. In the same period, e-scooters had the highest percentage increase in injuries and were responsible for 68 deaths.
Consumer-owned e-scooters were responsible for most ER visits (56 percent), but incidents involving rented e-scooters were not far behind (44 percent).
According to a recent study by UCLA, people injured in e-scooter accidents frequently sustain fractures and head trauma, necessitating emergency room treatment. The study used data from 249 patients treated at UCLA Health's two hospitals, Ronald Reagan UCLA Medical Center and UCLA Medical Center, Santa Monica, between September 1, 2017, and August 31, 2018.
In 2020, 1,354 injured people were treated at 180 UCLA outpatient clinics, UCLA Health emergency departments, and urgent care centers over a more extended period — from January 1, 2014, to May 14, 2020 — allowing researchers to compare data before and after the rollout of shareable e-scooters.
How Do I File a Report Following an Accident
You can get a police report after an accident with our assistance.
All you need to do is tell us what happened and where. Once we have received all the necessary information, we will reach out to the appropriate parties.
Our team handles this process for each client, so you do not have to worry about your insurance coverage—we'll ensure it's all covered!
Award-winning Scooter Accident Attorneys in Palmdale
An insurance company may be challenging to deal with after a scooter accident. Treatment of your injuries and making up for lost work time may keep you too busy to focus on legal matters. Furthermore, it may be complicated to determine who is at fault or prove liability.
You may be concerned about the car accident lawyer fees if you're considering hiring an attorney. Fortunately, most personal injury lawyers do not charge upfront fees. Instead, these lawyers work on a contingency basis.
You can count on our award-winning Los Angeles scooter attorneys at Arash Law, headed by Arash Khorsandi, Esq., to help you navigate the legal system and meet all deadlines. During settlement negotiations, we can guard your rights against insurance companies taking advantage of you.
Schedule a no-cost consultation with our legal team through our website's "Do I Have a Case?" or dial (888) 488-1391.