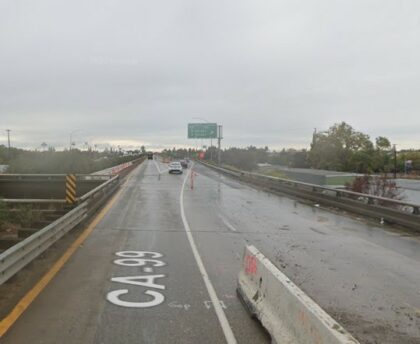 A big rig driver was killed following a collision with an SUV driven by a DUI driver in Merced on Monday night, March 06, 2023.
According to the California Highway Patrol, the fatal crash occurred shortly before 11:30 p.m. on southbound Highway 99, close to O Street.
The SUV driver reportedly tried to pass the big rig towing a pair of double trailers on the freeway's narrow right shoulder. The SUV then got wedged between the guard rail and the truck.
This led to the truck jackknifing. It then overturned and fell down a steep embankment, trapping its driver in the cab. The unidentified 55-year-old driver from Sacramento was declared dead at the site after being extricated.
35-year-old Anthony C. from Ceres, the SUV driver, was later detained on suspicion of DUI. No further information was available as the investigation continued.

Fatal DUI Accident Statistics
In 2019, 10,142 persons were killed in traffic-related accidents involving drunk drivers in the United States. That same year, there were 949 DUI-related fatalities in California, a rate of 2.4 per 100,000 people. In the United States as a whole, the rate was 3.1%. Driving under the influence affected 28.1% of all U.S. deaths and 26.3% of California fatalities.
Although deaths, injuries, and accidents caused by DUI drivers have declined since the 1980s, there are still far too many drunk drivers on the road today, according to another government report.
In California, if your blood alcohol content (BAC) is 0.08 or greater, you will be arrested. The compromised perceptions and judgment of an intoxicated driver make them a danger on the road.
What to Do After a DUI Accident
If you or a loved one are ever in a car crash involving a DUI driver, dial 911 immediately. Whether communicating with law enforcement or insurance companies, it is in everyone's best interest to be as thorough as possible. It's better not to make any assumptions. Some victims may apologize even if they played no role in the accident. The insurance company may conclude that this kind of behavior warrants a denial of the claim.
Get a copy of the investigation report by contacting the appropriate department. For your convenience, an online form has been included on this page that you can fill out. We can get started on your request as soon as we have the report. To make sure you get the most out of your insurance claim, our renowned attorney will review it at no extra cost to you.
DUI Accident Lawyers for Victims in Merced County
In California, victims of drunk driving can file a lawsuit against the driver in civil court to seek financial compensation for their injuries. If you or a loved one has been hurt and you need help settling with the insurance company, please contact us as soon as possible.
Our trusted Merced County drunk driving accident victim lawyers at Arash Law, led by Arash Khorsandi, Esq., have extensive experience advocating for accident victims, with awarded compensation totaling $400 million.
Call (888) 488-1391 now or click the "Do I Have a Case?" on our website to set up a free consultation with one of our attorneys.