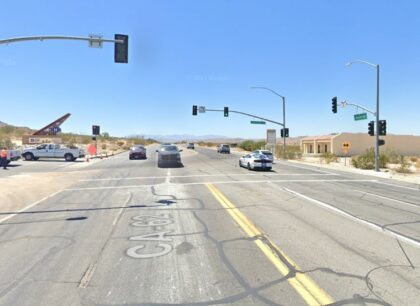 An 81-year-old man was killed after being struck by a car while walking along a highway near Joshua Tree in San Bernardino County on Saturday morning, March 04, 2023.
According to the local authorities, the fatal pedestrian crash occurred early morning at about 5:00 a.m. along the eastbound lanes of Twentynine Palms Highway near White Feather Road.
The elderly man was reportedly walking west on the highway's eastbound right lane when a Chevrolet Avalanche driven by a 43-year-old man from Twentynine Palms traveling eastbound struck him.
The pedestrian was declared dead on the spot. The driver remained at the scene and was cooperative with their investigators. No further details on their identities were released.
While the exact circumstances that led to the collision are yet unknown and still being investigated, it appears that neither drugs nor alcohol had a role.

Fatal Pedestrian Accident Statistics
The number of people killed in automobile accidents fell by 14% between 2007 and 2016, according to the Governors Highway Safety Association. Yet, there was a 27% increase in pedestrian fatalities within that same time period. Based on these numbers, it appears that walking along the roadways in the United States is growing increasingly hazardous.
As stated by authorities, there were 5,977 pedestrian fatalities in 2016. By the end of that year, almost 88 people were dying per minute. Over 137,000 pedestrians required medical attention in 2017 due to injuries sustained on the streets.
In 2012, nearly 14,000 pedestrians were injured and 893 were killed in California. As shown by the numbers, this is one of the leading reasons why pedestrians in California end up in the hospital or are killed.
What to Do After a Pedestrian Accident
If you or a family member are in a car crash, dial 911 immediately. When talking with law enforcement or an insurance company, it's in everyone's best interest to be as thorough as possible. Making assumptions should be avoided. Even though they had nothing to do with the incident, victims may apologize. So, such actions could be grounds for the insurance company to deny your claim.
If you would like a copy of the report outlining the investigation findings, please contact the appropriate department. You can also reach us via the contact form on this page. Your request can be initiated as soon as we receive the report. For zero fee, you may have our highly recognized attorney review your insurance claim to ensure you get the most out of it.
Pedestrian Accident Lawyers in San Bernardino County
Regarding legal rights after an accident, pedestrians in California enjoy the same privileges as motorists, cyclists, and passengers. If you or a loved one were injured in a car accident that wasn't your fault, you might be able to take legal action against the at-fault driver for damages.
Our trusted San Bernardino County pedestrian accident lawyers at Arash Law, led by Arash Khorsandi, Esq., have extensive experience and accolades advocating for accident victims. Our clients have been awarded compensation totaling $400 million.
Call (888) 488-1391 now or click the "Do I Have a Case?" on our website to set up a free consultation with one of our attorneys.