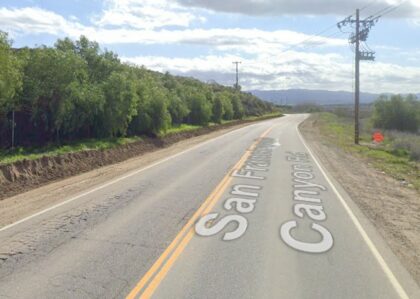 Three people were injured following a multi-vehicle collision north of the Saugus neighborhood in Santa Clarita on Monday afternoon, March 06, 2023.
According to the Los Angeles County Fire Department, the three-vehicle crash occurred around 4:36 p.m. on San Francisquito Canyon Road, north of Quail Trail and the Santa Clarita Valley Equestrian Center.
The California Highway Patrol reported that one of the vehicles involved veered over the double lines and collided with two other cars. The driver who caused the crash sustained major injuries, while the two other motorists suffered minor injuries.
Two ambulances were sent out and one arrived on the scene, taking one victim to a local hospital. No further details on their identities and current conditions were immediately available.
The authorities are looking further into what caused the multi-car crash, including whether alcohol or drugs played a role. No other information was released.

Multi-Vehicle Accident Statistics
Car accidents are a leading cause of accidental death and injury in the United States. Around ten million people are hurt and over two million are killed every year due to traffic-related incidents around the world.
According to the National Safety Council, after three years of reduction, traffic deaths increased by 8.3 percent in 2020. In 2019, there were 39,107 people killed in car accidents in the United States. By the year 2020, that figure had risen to 42,338.
A total of 3,847 people lost their lives in California traffic accidents that year in 2020. The majority of traffic fatalities, 2,260 (59%), occurred in incidents involving a single vehicle, while 1,587 (41%) were caused by collisions involving two or more cars.
What to Do After a Car Accident
Call 911 immediately if you or a family member are involved in an automobile accident. As much information as possible should be provided to law police or an insurance company when communicating with them. Avoid making assumptions. Victims may express regret for an incident even though they played no part in it. As a result, the insurance company may consider such behavior as grounds for rejecting your claim.
Get in touch with the relevant division if you'd like a copy of the report detailing the results of the investigation. This page also features a contact form through which you may get in touch with us. As soon as we have the report, we can get started on your request. To help you get the most out of your insurance claim, you can have it reviewed by our well-regarded attorney at no extra cost.
Car Accident Lawyers in Los Angeles County
If you or a loved one have been wounded in a car accident and you think you may have a case, you are entitled to a free first consultation with a local personal injury or wrongful death attorney. If you need help filing a claim or would like to discuss your case with an attorney first, please get in touch with us.
Our trusted Los Angeles County car accident lawyers at Arash Law, led by Arash Khorsandi Esq., have the recognition and vast experience to advocate for accident victims, with awarded compensation totaling $400 million as of yet. Contact (888) 488-1391 or click the "Do I Have a Case?" on our website to schedule a free consultation with one of our lawyers.