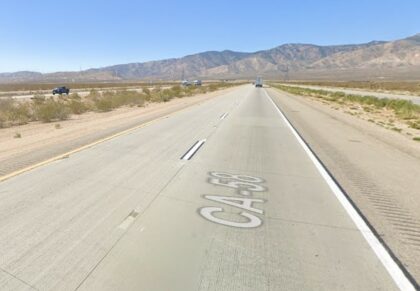 A truck collision led to one person's death in Caalifornia City on Tuesday afternoon, March 7, 2023.
The fatal collision reportedly occurred around 1:53 p.m. on Highway 58 near California City Boulevard.
According to authorities, one person was possibly ejected from one vehicle.
It is unclear who died or if anyone else was injured in this crash.
The coroner will disclose the name of the deceased at a later date.
Further investigations on the crash are underway.

Fatal Truck Collision Statistics
The National Highway Traffic Safety Administration reported that large trucks caused 8.9% of fatal crashes in 2010, but only 3.8% of injury crashes and 5% of property damage crashes in 2010. Among the 4,842 fatal truck collisions, 64.6% involved combination trucks.
Large trucks often cause fatal accidents on American highways and roads. Because of the size difference, traffic accidents involving tractor-trailers are more common than those involving passenger cars.
A "large truck" refers to any medium or heavy truck weighing more than 10,000 pounds, excluding buses and recreational vehicles. Vehicles in this category may be either noncommercial or commercial.
Large truck accidents are most often fatal to passengers. Passengers in smaller vehicles are particularly vulnerable. Trucks weigh 20 to 30 times more than passenger cars, have higher ground clearance, and may underride smaller cars.
What Should You Do After an Accident
We can assist you with obtaining a police report following an accident.
The only thing we need from you is the details of what happened and where it took place. Once we have all the information you need, we will contact the appropriate parties.
With this process, we'll ensure that insurance covers any damage or injuries, so you don't have to worry about it!
Truck accidents frequently result in severe injuries. You may need the assistance of a truck accident attorney to win this case because it can be challenging to handle on your own.
Reputable Truck Accident Attorneys in California City
Professional truck drivers must comply with all laws and regulations. In most cases, they are responsible for accidents involving their large vehicles. The injured party may sue the party responsible for the accident following a tragic incident.
Our California City truck accident lawyers at Arash Law, headed by Arash Khorsandi, Esq., can represent you if you have been seriously injured in a truck accident. You can count on our legal team to fight for equal compensation.
Due to their extensive training and experience, they can help you obtain the best possible settlement.
To schedule a free case review with our team, dial (888) 488-1391 or use our website's "Do I Have a Case?" form.