An 87-year-old woman identified as Erna D. was killed after a deadly two-vehicle collision in Red Bluff on Monday evening, March 7, 2022.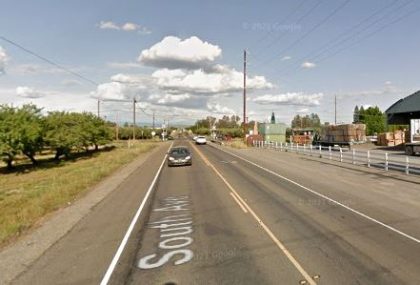 The accident happened on South Avenue near Kirkwood Road in Red Bluff st at approximately 6:30 p.m.
An eastbound 2015 Chrysler 200 was traveling on South Avenue when it collided with a westbound 2000 Ford F-150 pickup for unclear reasons.
A passenger inside the Chrysler 200 sustained major injuries in the mishap and was rushed to Enloe Medical Center in Chico. Unfortunately, she later succumbed to her injuries and was pronounced dead.
Information about the accident is limited at the moment. Drugs and alcohol were not considered as factors in the crash.
Local authorities are further investigating the case.

Fatal Two-Vehicle Crash Statistics
Roughly one traffic accident occurs in the United States every sixty seconds (60 seconds per minute). Considering how many cars use the country's highways every day, it's not unexpected.
About 4 million Americans are wounded in automobile accidents each year. The US Department of Transportation's Fatality Analysis Reporting System (FARS) found that 33,654 fatal car accidents in 2018 resulted in 36,560 deaths.
According to the California Office of Traffic Safety, approximately 427 people were killed and injured in traffic collisions in Tehama County in 2019 alone.
A variety of circumstances, including inattentive driving, intoxication, and fatigue, contribute to these accidents.
An OTS poll found that 57% of Californians thought it is acceptable to drive ten miles per hour over the posted speed limit on the state's freeways. Nearly 40% of those polled felt they were unlikely to be ticketed for going ten mph over the limit.
Fatal Car Accident Lawyers for Victims in Tehama County
Arash Law specializes in deadly car accidents leading to death. Family members have the right to receive damages for wrongful death, medical bills, and other expenses. Fatal car accidents are grave tragedies that impact the lives of so many people involved.
Although a wrongful death lawsuit can't reverse your loss, it's a small step toward holding negligent people answerable. Our Tehama County fatal car accident lawyers from Arash Law can help you receive compensation for your injuries, medical expenses, loss of wages, pain, and suffering, along with other road traffic accident-related expenses.
Our lawyers understand the complications surrounding traffic accident cases; we do our best to cater to our client's needs.
Our injury and wrongful death cases are taken on contingency, which means you don't have to pay anything unless your case is satisfactorily resolved. Family sacrifices may be essential to pay for these costly but necessary medical care treatments. To speak with a wrongful death lawyer in California, please dial (888) 488-1391.