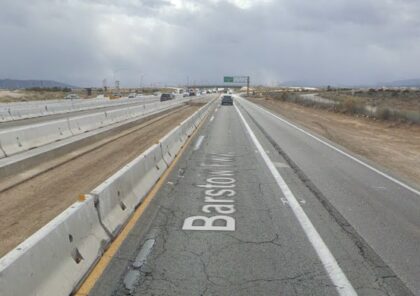 Authorities reported a multi-vehicle collision that led to possible injuries in San Bernardino County early Thursday morning, March 09, 2023.
According to the California Highway Patrol, the four-vehicle crash occurred shortly before 5:00 a.m. on the southbound Interstate 15 freeway near Oak Hill Road.
The circumstances that led to the crash are unknown, but it reportedly involved a black Toyota Corolla, a blue Lexis, a gray Toyota Camry, and a white Toyota Prius.
Information on the number of people involved and the extent of the possible injuries sustained was not immediately available as the investigation continued.
The traffic on the freeway and Mariposa Road near Oak Hill Road got delayed due to the crash. Motorists were advised.

Multi-Vehicle Accident Statistics
In the United States, auto accidents are the leading cause of a disproportionately high number of unintentional injuries and fatalities. Every year, almost two million individuals lose their lives in traffic-related accidents, and another ten million are injured.
The National Safety Council reported an 8.3 percent rise in traffic-related fatalities in 2020 in the United States, following three years of reduction. In 2019, there were 39,107 people killed in automobile accidents across the country. There were 42,338 in 2020.
In 2020, 3,847 people lost their lives in California roadway collisions. More than half (59%), or 2,260, of the fatalities, were the result of collisions involving only one vehicle, while 41%, or 1,587, were the result of collisions involving two or more cars.
What to Do After a Car Accident
If you or a loved one are involved in a car accident, please dial 911 immediately. Tell the truth and don't make any assumptions while talking to the police or your insurance company. Some victims may say sorry even if they played no role in the tragedy. The insurance company could use such actions as evidence against a claim.
If you ask the authorities that handled the case, you can get a copy of the investigation's final report. An online form on this site is also available for your use. As soon as the report arrives, we can begin working on your request. Our reputable attorney is available to give you free guidance on how to maximize your insurance benefits.
Car Accident Lawyers in San Bernardino County
You have the right to a free consultation with a local personal injury or wrongful death lawyer if you or a loved one has been injured in an automobile accident. Do not hesitate to get in contact with us if you have any concerns regarding filing a claim or would like to discuss your case with an attorney.
Our trusted San Bernardino County car accident lawyers at Arash Law, led by Arash Khorsandi Esq., have the recognition and vast experience to advocate for accident victims, with awarded compensation totaling $400 million as of yet. Contact (888) 488-1391 or click the "Do I Have a Case?" on our website to schedule a free consultation with one of our lawyers.