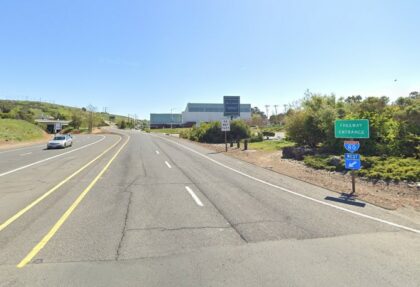 A pedestrian was killed after being struck by multiple vehicles while trying to cross Highway 80 in Vallejo early Thursday morning, March 09, 2023.
According to the California Highway Patrol, the fatal crash occurred around 4:00 a.m. on eastbound Interstate 80 near the Sonoma Boulevard off-ramp, east of the Carquinez Bridge toll plaza.
The unidentified male pedestrian reportedly tried to cross the eastbound traffic lanes when he was hit by several vehicles and sustained fatal injuries. No further details were released on the number of vehicles involved and whether they stayed on site.
All lanes of traffic were temporarily shut down due to the deadly collision. By around 7:00 a.m., all lanes have reopened.
The CHP is looking into the circumstances that led to the crash. Anyone with information is urged to contact the authorities.

Pedestrian Accident Statistics
Between 2007 and 2016, the number of people killed in car accidents fell by 14%, according to data compiled by the Governors Highway Safety Association. Yet, over the same time period, the mortality of pedestrians increased by 27%. According to these numbers, it is becoming increasingly risky to cross streets in the United States.
2016 data shows that there were 5,977 pedestrian fatalities across the United States. At the conclusion of that year, almost 88 people were dying per minute. Throughout the following year, 2017, about 137,000 pedestrians were injured in collisions with motor vehicles and required medical attention.
A total of 893 pedestrians were killed and almost 14,000 were injured in California in 2012. According to statistics, this is a leading cause of harm to pedestrians in California.
What to Do After a Pedestrian Accident
Please call 911 immediately if you or a loved one are involved in a pedestrian accident. Whether speaking with law enforcement or an insurance provider, it is imperative that you tell the truth and refrain from making any assumptions. Even though they had nothing to do with what happened, some victims may apologize. Such behavior could be used as proof by the insurance company to deny a claim.
A copy of the completed investigation can be obtained by contacting the relevant authorities. You can also use this website's online form if that's more convenient. It will be possible to start on your request as soon as we receive the report. You can get free advice from our well-regarded attorney on how to get the most out of your insurance policy.
Pedestrian Accident Lawyers in Solano County
In the event of an accident, pedestrians in California have the same legal protections as motorists, passengers, and riders. In the event that you or a loved one are hurt in a car crash that wasn't your fault, you have the right to file a claim for damages against the irresponsible driver.
Our trusted Solano County pedestrian accident lawyers at Arash Law, led by Arash Khorsandi, Esq., have extensive experience and accolades advocating for accident victims. Our clients have been awarded compensation totaling $400 million.
Call (888) 488-1391 now or click the "Do I Have a Case?" on our website to set up a free consultation with one of our attorneys.