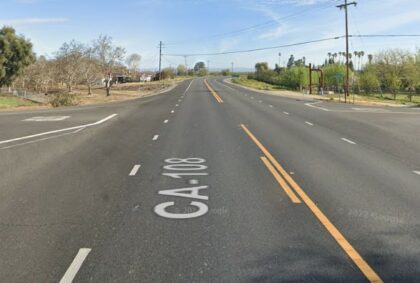 Minor injuries were reported following a two-vehicle collision in Riverbank, Stanislaus County, on Friday afternoon, March 03, 2023.
According to the California Highway Patrol, the crash occurred around 12:59 p.m. at Highway 108 and Snedigar Road.
Local responders arrived at the scene and reported minor injuries from the crash. The number of people involved and the extent of the injuries sustained are currently unclear.
The circumstances that led to the crash are under investigation, including whether speeding or intoxication played a role.
No further information was immediately available.

Two-Vehicle Accident Statistics
As the leading cause, vehicle collisions account for a disproportionate share of accidental deaths and injuries in the United States. Worldwide, road traffic accidents account for over two million deaths and ten million injuries annually.
A reversal of the previous three years' downward trend in traffic-related fatalities in the United States was reported in 2020, according to the National Safety Council. There were 39,107 fatalities caused by automobile accidents in the United States in 2019. In the year 2020, there were 42,338.
The fatality toll from traffic accidents in California reached 3,847 in 2020. There were 2,260 (59%) people killed in single-vehicle accidents and 1,587 (41%) people killed in accidents involving two or more vehicles.
What to Do After a Car Accident
If you or a loved one are involved in a car accident, dial 911 immediately. Always be honest and avoid forming assumptions while communicating with authorities or insurance companies. Some victims may express regret despite bearing no responsibility for the incident. Insurance companies may cite such actions as grounds for a claim denial.
You can get a copy of the final report by contacting the appropriate authorities. If filling out an online form is more your style, you may do so here. As soon as we have the report, we can get started on your request. Our highly-rated attorney is here to give you free advice on how to maximize the benefits of your insurance coverage.
Car Accident Lawyers in Stanislaus County
If you or a loved one has been hurt in a car crash, you have the legal right to a free consultation with a local personal injury or wrongful death attorney. If you have questions about submitting a claim or would like to speak with an attorney about your situation, please don't hesitate to get in touch with us.
Our trusted Stanislaus County car accident lawyers at Arash Law, led by Arash Khorsandi Esq., have the recognition and vast experience to advocate for accident victims, with awarded compensation totaling $400 million as of yet. Contact (888) 488-1391 or click the "Do I Have a Case?" on our website to schedule a free consultation with one of our lawyers.