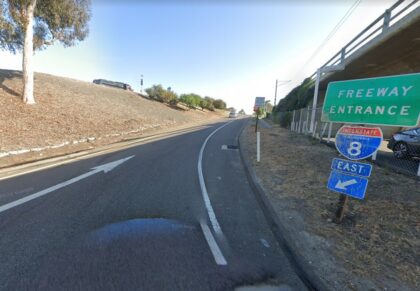 A man was struck and killed by a vehicle while walking in a freeway's center divider in El Cajon on Sunday night, March 12, 2023.
The California Highway Patrol reported that the fatal pedestrian crash occurred at about 8:20 p.m. on the eastbound Interstate 8 Freeway at West Main Street.
The responding officers discovered the man lying in the traffic lanes and declared him dead at the site. No further details on his identity were released pending notification of the family.
The circumstances that led to the crash remain unknown. No other information on the driver of the vehicle involved was immediately available.
The authorities continue to look further into the deadly crash.

Fatal Pedestrian Accident Statistics
The number of people killed in car accidents fell by 14% between 2007 and 2016, according to data compiled by the Governors Highway Safety Association. Comparatively, the number of pedestrian fatalities increased by 27% throughout that time period. According to these numbers, it's becoming riskier to take a stroll down the roadways in the USA.
Most recently available data indicates that there were 5,977 pedestrian fatalities in the United States in 2016. By the end of that year, as many as 88 people were dying per minute. Over the course of 2017, more than 137,000 pedestrians were injured in auto-related events and required medical attention.
The state of California saw 893 pedestrian deaths and over 14,000 injuries in 2012. According to statistics, this is the most common cause of injury for California's pedestrian population.
What to Do After a Pedestrian Accident
In the event that you or a loved one are engaged in a pedestrian accident, you must immediately dial 911. In dealing with the law or an insurance company, you should be as factual as possible and avoid making any assumptions. Some victims may express regret even if they played no part in the incident. The insurance company might consider this kind of action as evidence to reject a claim.
If you'd like a copy of the final report, you can request one by contacting the appropriate authorities. Here on our site, you'll also find a brief online form for your convenience. Upon receipt of the report, we will get right to work on your request. If you have any problems or questions about maximizing your insurance coverage, you can speak with our highly renowned attorney at no extra cost.
Pedestrian Accident Lawyers in San Diego County
In the event of an accident, pedestrians in California have access to the same protections as motorists, passengers, and riders. You have the right to sue the driver who caused your injuries or the death of a loved one in a car accident that was not your fault.
Our trusted San Diego County pedestrian accident lawyers at Arash Law, led by Arash Khorsandi, Esq., have extensive experience and accolades advocating for accident victims. Our clients have been awarded compensation totaling $400 million.
Call (888) 488-1391 now or click the "Do I Have a Case?" on our website to set up a free consultation with one of our attorneys.