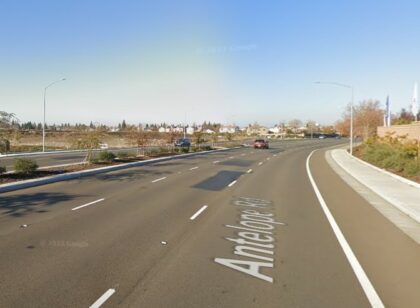 A pedestrian was found dead after being struck by a car in the Antelope area early Tuesday morning, March 14, 2023.
According to the California Highway Patrol, the accident happened around 4 a.m. near the intersection of Daly Avenue and Antelope Road.
No further information on the accident was released.

Fatal Pedestrian Collision Statistics
The Governors Highway Safety Association (GHSA) released a report which estimates that 7,485 pedestrians were killed in collisions in 2021, the most in four decades.
Speeding was the primary factor in 8.6% of pedestrian fatalities in 2020, up from 7.2% in 2019. Speed plays a critical part in pedestrian safety. The risk of pedestrian death exponentially rises with vehicle speed, from 10% at 23 mph to 90% at 58 mph.
The majority of pedestrians who are struck by cars sustain serious wounds. Severe damage can also be observed when a vehicle collides with a crowd of pedestrians.
Failure to yield to pedestrians or braking too suddenly are two main causes of pedestrian fatalities and injuries.
Pedestrians should always use sidewalks, avoid drug and alcohol use, and cautiously cross parking lots and driveways. These tips lower the risk of injury or death from vehicle collisions.
What Should I Do Following an Accident?
Make sure that the police show up and file a report about the accident. If you are interviewed at the location of the accident, please provide accurate information. Refrain from making assumptions or jumping to conclusions about things you don't know. A victim may apologize profusely following an accident due to panic and shock, even if there was no fault. Insurance companies may use this goodwill gesture as evidence of your guilt to avoid paying out on a claim.
California's high rate of traffic accidents has caused injuries to pedestrians, cyclists, and vehicle passengers.
Whether you were in a car or not, our attorneys are here to help. While you focus on getting well, we will work to secure the legal compensation to which you are entitled and will keep you notified of the progress.
Trusted Pedestrian Accident Lawyers in Sacramento County
If a family believes a defendant's actions played a role in their loved one's death, they may file a wrongful death lawsuit against that defendant. In several cases, the court may decide to award damages.
You can rely on our Sacramento County Pedestrian Accident Lawyers at Arash Law, led by Arash Khorsandi, Esq., to secure proper compensation for any injuries you sustained in the accident.
When careless drivers face the consequences of their actions, traffic accidents decrease.
Contact us at (888) 488-1391 or through our "Do I Have A Case?" form to speak with one of our attorneys at no cost.