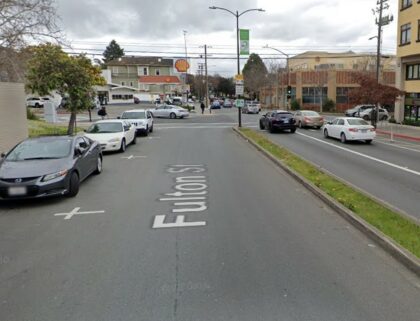 A food delivery man was seriously injured after being hit by a package delivery truck in downtown Berkeley on Wednesday afternoon, March 15, 2023.
According to the Berkeley Police Department, the crash occurred at about 3:45 p.m. on Fulton Street between Durant Avenue and Bancroft Way.
The delivery driver was making his way back to his full-size cargo van parked between the bicycle lane and the rightmost lane on Fulton's southbound side when a passing truck smacked him with the truck's side view mirror.
The unidentified man was brought to Highland Hospital in Oakland in an unknown condition. The truck driver remained at the scene and was cooperative with the investigators.
The department's Fatal Accident Investigation Unit is handling the investigation because of how severe the crash was.

Pedestrian Accident Statistics
The number of people killed in car accidents decreased by 14% between 2007 and 2016, according to data compiled by the Governors Highway Safety Association. Yet, deaths of pedestrians rose by 27% over the same time.
With these statistics, it appears that it is becoming increasingly dangerous to simply walk along American streets.
In 2016, there were 5,977 pedestrian deaths in the United States. There were as many as 88 deaths every minute towards the end of that year. More than 137,000 pedestrians were wounded in 2017 alone due to collisions with motor vehicles.
In 2012, 893 people in California were killed and over 14,000 were injured while walking. That's the leading cause of injury for California pedestrians, stats show.
What to Do After a Pedestrian Accident
Immediately notify the authorities if you or a loved one are involved in a pedestrian accident. When dealing with law enforcement or insurance companies, it is important to be honest and not make any assumptions. Some victims, even if they are innocent, may feel they ought to apologize anyhow. The insurance company will not pay out on any claims if the victim acts in such a way.
A copy of the final report should be made available upon request from the appropriate authorities. Please use the short online form below to get in touch with us. After we get your message, we'll work on your case. Contact our highly renowned attorney for a free, no-obligation consultation if you have doubts about the viability of your case.
Pedestrian Accident Lawyers in Berkeley
California law affords pedestrians the same safety nets as drivers, passengers, and riders in the case of an accident. If you or a loved one were hurt in an automobile accident that wasn't your fault, you may be able to file a personal injury lawsuit against the irresponsible driver.
Our trusted Berkeley pedestrian accident lawyers at Arash Law, led by Arash Khorsandi, Esq., have extensive experience and accolades advocating for accident victims. Our clients have been awarded compensation totaling $400 million.
Call (888) 488-1391 now or click the "Do I Have a Case?" on our website to set up a free consultation with one of our attorneys.