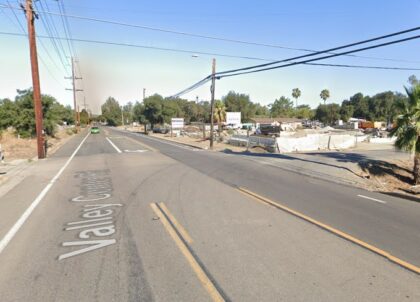 A male pedestrian was seriously injured after being struck by a vehicle in San Diego County on Wednesday night, March 15, 2023.
According to the California Highway Patrol, the crash occurred around 7:35 p.m. on Valley Center Road near Sunset Road in Valley Center.
The responding officers learned upon arrival that a Volkswagen Jetta driven by a 26-year-old woman was traveling east when it hit a man walking in the eastbound lane.
The unidentified man was transported to a nearby hospital with life-threatening injuries. Officers are still figuring out why he was walking in the street.
The driver of the car was reportedly unharmed. It was determined that alcohol or drugs did not contribute to the crash.

Pedestrian Accident Statistics
The Governors Highway Safety Association reported that between 2007 and 2016, there was a 14% drop in the number of people killed in car accidents. Yet pedestrian deaths increased by 27% during that same time period.
These numbers would seem to indicate that it is becoming increasingly risky to take a stroll through American roadways.
A total of 5,977 pedestrians were killed in the United States in 2016. By year's end, as many as 88 people were dying per minute. In 2017, more than 137,000 pedestrians were injured in accidents involving motor vehicles and required medical attention.
There were 893 pedestrian deaths and nearly 14,000 injuries in California in 2012. According to the numbers, this is the main reason why pedestrians get hurt in California.
What to Do After a Pedestrian Accident
If you or a loved one are involved in a pedestrian accident, it is imperative that you contact the police immediately. When talking with the police or an insurance company, do it honestly and without making any assumptions. In spite of their innocence, some victims may feel compelled to apologize. Insurance companies can choose not to pay out claims if the victim displays such behavior.
Obtaining a copy of the final report is a matter of request; the appropriate authorities should comply. Please use the short online form below if you need to contact us right away. We will start working on your inquiry as soon as we receive it. Contact our well-respected lawyer for a free, no-risk consultation if you have concerns about the viability of your case.
Pedestrian Accident Lawyers in San Diego County
In the event of an accident, pedestrians in the state of California enjoy the same protections as motorists, passengers, and riders. A personal injury lawsuit against the negligent driver might be an option if you or a loved one suffered harm in a car crash that wasn't your fault.
Our trusted San Diego County pedestrian accident lawyers at Arash Law, led by Arash Khorsandi, Esq., have extensive experience and accolades advocating for accident victims. Our clients have been awarded compensation totaling $400 million.
Call (888) 488-1391 now or click the "Do I Have a Case?" on our website to set up a free consultation with one of our attorneys.