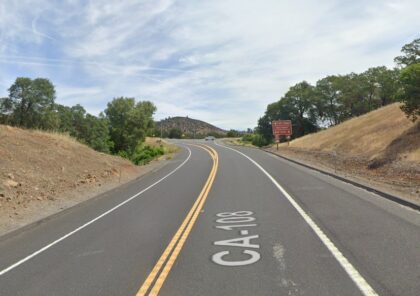 At least one person was killed following a two-vehicle fiery collision in Tuolumne County on Thursday morning, March 16, 2023.
According to the California Highway Patrol, the fatal crash occurred on Highway 108 near Keystone Ranch, west of the census-designated place of Jamestown.
What exactly led to the collision remains under investigation, but a tow truck carrying a vehicle is said to have collided with an SUV, causing one of them to catch fire.
At least one person was confirmed dead. The number of people involved and the extent of possible injuries is unclear at this point.
By 10:48 a.m., a one-way traffic control was put in place around the crash site to reroute motorists. The flames have also been put out.
No further immediate information was available as the investigation continued.

Fatal Two-Vehicle Accident Statistics
Car accidents are the leading cause of accidental death and injury in the US. Additionally, more than two million people are killed and ten million more are injured in traffic-related events worldwide every year.
According to the National Safety Council, the number of fatalities related to motor vehicle accidents in the United States rose by 8.3 percent in 2020. This came after three consecutive years of decline. There were 39,107 fatalities associated with car accidents in 2019. There were 42,338 of them in 2020.
In 2020, 3,847 persons were killed in automobile accidents in California. Around 41%, or 1,587 people, were killed in accidents involving two or more cars. For 59% of all fatalities, it was determined that only one vehicle was involved (2,260).
What to Do After a Car Accident
If you or a loved one are involved in an automobile accident, you must notify the police immediately. Whether you have to deal with law enforcement or an insurance company, it's best to be completely honest and never assume anything. It's possible that some victims will feel they need to apologize even when they've done nothing wrong. Insurance companies may choose not to pay out claims if victims act in such a way.
Officials owe you a copy of the completed report upon request. Please use the short online form below if you need to contact us straight away. We promise to start working on your inquiry as soon as we get it. Contact our highly regarded attorney for a free, no-risk consultation if you are worried about the financial implications of your case.
Car Accident Lawyers in Tuolumne County
Call our highly renowned personal injury and wrongful death lawyers in your area right now to book a free consultation if you or a loved one has been wounded in a car accident. Don't hesitate to call or email if you have any questions about filing a claim or would want to schedule a consultation with one of our attorneys.
Our trusted Tuolumne County car accident lawyers at Arash Law, led by Arash Khorsandi Esq., have the recognition and vast experience to advocate for accident victims, with awarded compensation totaling $400 million as of yet. Contact (888) 488-1391 or click the "Do I Have a Case?" on our website to schedule a free consultation with one of our lawyers.