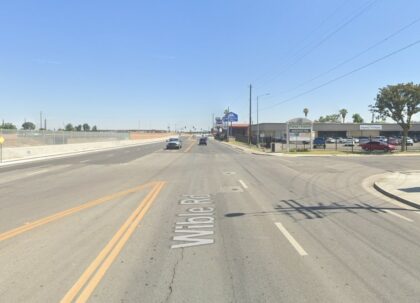 A pedestrian crash claimed one person's life in Bakersfield early Thursday morning, March 16, 2023.
According to authorities, the collision transpired around 4:00 a.m. near Valley Plaza Mall, on Wible Road and Wood Lane.
Reports indicated that officials received information about a crash involving a pedestrian struck by a vehicle.
When they arrived, they pronounced that the male victim had died. Details on his identity have not been released.
The vehicle driver remained at the scene and cooperated with officers.
Southbound lanes on Wible Road were closed while investigations were ongoing.

Fatal Pedestrian Accident Statistics
The Governors Highway Safety Association reports that 7,485 pedestrians were killed in 2021, the highest number in over 40 years.
There was an increase in speed-related pedestrian deaths from 7.2% in 2020 to 8.6%. Speed adversely affects pedestrian safety. When speeds reach 58 mph, pedestrian death rates rise to 90%.
In 2016, approximately 5,937 pedestrians died in the United States. Eighty-eight people were expected to die every minute until the end of the year. In 2017, at least 137,000 pedestrians needed medical attention.
Traffic accidents and pedestrian fatalities are the highest in California. Almost 14,000 pedestrians were injured in 2012, and 893 pedestrians died.
Pedestrians must stay on the paths when crossing driveways and parking lots, refrain from drugs and alcohol and proceed cautiously. Following these guidelines will make them less likely to be injured in an accident.
What Should I Do Following an Accident
Ensure that police arrive at the collision scene and file a report. During an interview at the accident scene, be truthful about what you saw and experienced. Ensure you use your words carefully and don't make assumptions about things you don't understand. Anxiety and shock following an accident can make victims apologize profusely, even when they are not at fault. An insurance company can use this act of kindness to argue that you admitted guilt and avoided paying out.
Traffic accidents in California have injured pedestrians, cyclists, and passengers in vehicles. No matter whether you were in a vehicle at the time of the accident, our skilled lawyers are here to assist you. We'll pursue your legal rights while you focus on getting well, and we'll keep you informed of our progress every step of the way.
Reliable Pedestrian Accident Lawyers in Bakersfield
Even without a crosswalk, pedestrian safety should always come first. Whenever a vehicle hits a person, they should be given the right of way. Anyone who appears to have broken the law may be questioned.
An injured person can sue the at-fault party for both monetary and non-monetary damages. In addition to providing you with legal support, we can assist you in improving your chances of success and compensation.
Our Bakersfield pedestrian accident lawyers at Arash Law, led by Arash Khorsandi, Esq., ensure their clients' needs are met, regardless of the circumstances. Following a tragic pedestrian accident, we aim to return you to your routine as soon as possible.
Get a free consultation with our team by calling (888) 488-1391 or filling out the online "Do I Have a Case?" inquiry form.