A 78-year-old man Oliver R. was killed after a deadly motorcycle crash in Templeton on Saturday morning, March 26, 2022.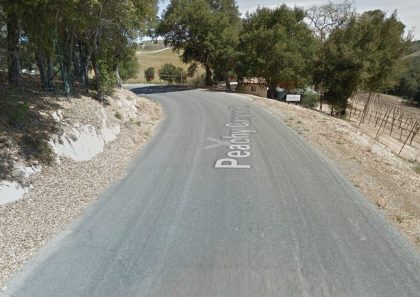 The fatal accident transpired at approximately 11:57 a.m. on Peachy Canyon Road in Templeton.
A 2019 Aprilia 1100 cc was traveling at 40 mph westbound on Peachy Canyon Road when the rider leaned into a curve, crossing into the eastbound lane.
The motorcycle rider then crashed head-on into an oncoming Honda Fit, going approximately 25 mph.
Due to the severity of the impact, the rider fell off his motorcycle and landed on an embankment. He was pronounced dead.
The other driver remained at the scene and willingly cooperated with authorities. The other driver was uninjured in the mishap. Drugs and alcohol were not considered factors in the crash.
An active investigation of the case is currently underway.


Fatal Motorcycle Crash Statistics
There's no doubting that motorcycle riders are among the most vulnerable road users. According to the National Highway Traffic Administration data, motorcycle riders are 16 times more likely to be injured and 35 times more likely to be killed in a crash than passengers.
Motorcycles are involved in at least 11% of all traffic accidents in the United States. In 2018, there were over 82,000 motorcycle injuries and 4,985 motorcycle deaths.
Almost 70% of motorcycle accidents occur at intersections due to motorists failing to see the motorcycle in front of them. Because of the small size of motorcycles, other drivers frequently underestimate a biker's speed, resulting in an accident.
California has one of the highest rates of motorcycle registration in the country. There are over 800,000 legally registered motorcycles in California. In 2017, there were 16,505 motorcycle accidents in California, resulting in 15,527 injuries and 541 deaths.
Motorcycle accidents are frequently caused by distracted driving, speeding, drunk driving, reckless driving, inclement weather, wrong-way driving, and failure to obey traffic laws.
Fatal Motorcycle Accident Lawyers for Victims in San Luis Obispo County
Motorcycle accidents are more likely to kill people than other traffic accidents. For the family of the person who died in a motorcycle accident, the death of a loved one can be very painful and upsetting.
If you have never been in an accident before, it can be hard to know what to do to protect your legal rights. A lot of people in the insurance business already know this. They may try to get people who have been hurt to agree to a settlement before talking to a lawyer.
Because the victim's family is going through a lot of pain, insurance companies may be able to get them to agree to a claim that is much less than it is worth. Contact a skilled motorcycle accident lawyer after a motorcycle accident to avoid this.
Arash Law's San Luis Obispo County motorcycle accident lawyers will help you and make sure that you get the most money possible for your claim. Following a fatal motorcycle accident, don't put off getting help from a lawyer. To set up your free consultation, call (888) 398-4017.