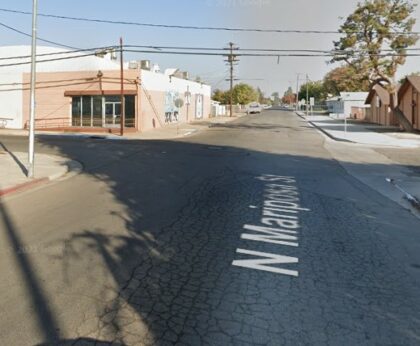 A 50-year-old female pedestrian was killed after a hit-and-run accident in central Fresno on Friday afternoon, April 28, 2023.
According to Sergeant Diana Trueba Vega of the Fresno Police Department, a white truck struck the pedestrian shortly before 1:00 p.m. at Hammond Ave. and Mariposa St.
The woman was transported to Community Regional Medical Center. She later succumbed to her injuries.
Vega reported that witnesses of the accident followed the suspect to the Rite Aid parking lot at Blackstone and Olive Avenues and then contacted the police. At 1:03 p.m., the authorities made contact with the witness.
A person was detained, but it wasn't confirmed if it was the suspect's vehicle, as the investigation is ongoing.
Hammond Ave. and Mariposa St. are expected to be closed for several hours.
The police are searching for more witnesses. It is currently unknown whether alcohol or drugs were involved in the accident.

Reliable Attorneys for Hit-and-Run Accidents in Fresno County
In California, victims of hit-and-run accidents may file insurance claims or legal actions to recover damages. If you or a family member sustained injuries or were killed due to the negligence of another, our hit-and-run attorneys in California can assist you.
In our free consultation, one of our attorneys will evaluate your case, review the following steps, and evaluate the factors that can influence the final settlement offer.
Our Fresno hit-and-run accident lawyers at Arash Law, led by Arash Khorsandi Esq., have extensive experience representing accident victims, with over $500 million in compensation.
Contact us at (888) 488-1391 or complete our "Do I Have a Case?" form.
What to Do After a Hit-and-Run Accident
You may be entitled to compensation if you suffer damages in an accident caused by a negligent driver. Your efforts will help your case if you file a lawsuit for damages. They may also aid law enforcement in locating and apprehending the driver. Do the following:
Document the vehicle's make, model, color, and license plate number at the accident scene.
Immediately report the accident to the authorities. Request a copy of the accident report from the California Department of Motor Vehicles or the local police station. This evidence can be used to support your claim.
Obtain the names and contact information of any potential witnesses.
As soon as possible, seek medical attention at the hospital.
Notify your insurance company immediately.
Fatal Hit-and-Run Accident Statistics
In the United States, it is illegal to cause an accident and then refuse to help the injured or not call the police. If you flee the accident scene and are at fault, you may be breaking the law.
The National Highway Traffic Safety Administration (NHTSA) recorded 737,100 hit-and-run collisions in the United States in 2015.
According to this statistic, every 43 seconds, hit-and-run accidents occur in the United States. 2016 established a new record when 2,049 people were killed in hit-and-run incidents.
California had 2,948 hit-and-run accidents between 2010 and 2019, resulting in 3,056 fatalities. California consistently has one of the highest rates of these accidents compared to other states.