At least one person was injured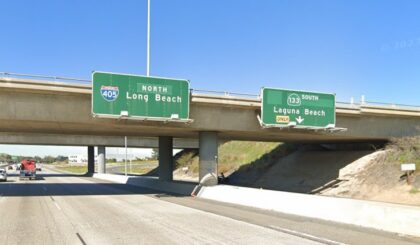 following a rollover big rig crash in Irvine late Tuesday morning, May 07, 2023.
According to the California Highway Patrol, the crash occurred around 11:23 a.m. between the southbound lane of the 133 Freeway and the northbound 405 Freeway.
A big rig crashed and flipped its trailer to the side, blocking all three freeway lanes.
One person was reportedly injured, but their condition has not yet been disclosed. The number of people involved and the extent of injuries have not yet been determined.
The authorities are currently investigating the rollover crash.

Trustworthy Truck Accident Lawyers in Irvine
In California, truck accident victims can file civil lawsuits for their injuries.
Feel free to contact us if you have questions about filing an insurance claim or would like one of our lawyers to negotiate a settlement on your behalf.
You can trust our Irvine truck accident lawyers at Arash Law, led by Arash Khorsandi, Esq., who obtained compensation for their clients totaling 400 million dollars.
Call (888) 488-1391 now or fill out the "Do I Have a Case?" form on our website to set up a free consultation with one of our lawyers.
What to Do After a Big Rig Accident
Seek medical attention immediately. The underlying damage can be diagnosed and treated despite not being immediately apparent.
Report accidents involving semi-trucks and other large vehicles as soon as possible. The police must be notified and a report filed.
When dealing with a lawyer or insurance company, always tell the truth and don't make assumptions. You should only accept a settlement offer after speaking with an lawyer.
Despite the victim's innocence, the insurance company may refuse to pay if they apologize. So avoid such behaviors.
A full copy of the report should be available upon request from the appropriate authorities. You can also use our online form to contact us. We can't look at your claim without it.
One of California's trustworthy truck accident lawyers will give you their undivided attention during your no-cost appointment.
Big Rig Accident Statistics
In the event of an accident, truck drivers and passengers are more protected than those in smaller vehicles. There is a statistically higher risk of severe or fatal injuries among passengers in smaller vehicles. Accidents involving trucks and other large commercial vehicles can be hazardous.
The National Highway Traffic Safety Administration reported that in the US in 2020, there were 4,965 fatalities involving heavy vehicles. The number of fatalities dropped by 5% the following year after reaching a record high of 5,032 in 2019. Nevertheless, trucks are involved in 71% of fatal car accidents in the US.
Large trucks made up 8.9% of all fatal collision vehicles in 2020. At least 90 people died in truck-car collisions in California in 2015. Texas and Florida were the only states with at least 50 truck-related fatalities that year.