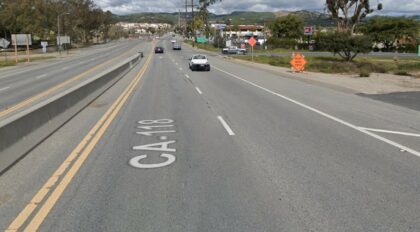 Two men were injured after a big rig vs. car head-on collision in Somis, Ventura County, late Tuesday afternoon, May 09, 2023.
The California Highway Patrol responded to the scene around 5:30 p.m. on 118 Freeway, near Mesa School Road.
The crash involved a Peterbilt big rig and a 2007 Lexus LS. The 66-year-old male Lexus driver from Santa Barbara, Russel Y., crashed with the big rig head-on as it towed an empty trailer eastbound on the 118 Freeway.
When the authorities arrived, Young was trapped inside his car, and it was blocking both lanes of traffic. He was extricated from the car by Ventura County Fire Department firefighters. According to authorities, he was airlifted to Ventura County Medical Center with serious injuries.
Aldo D., a 59-year-old Tarzana resident, driver of the semi-truck, was also found lying on the dirt road south of the freeway. Good Samaritans reportedly helped him get out of the rig. He suffered moderate wounds and was transported by ambulance to Los Robles Regional Medical Center in Thousand Oaks.
While waiting for emergency personnel to arrive, CHP personnel aided both drivers.
Investigations into the crash are still ongoing. Drugs and alcohol do not seem to be contributing factors.

Distinguished Big Rig Accident Attorneys in Somis, Ventura County
In California, you can file a personal injury lawsuit if you sustain injuries in a truck accident to get compensation and hold the at-fault party accountable. Protect your rights and safety.
Contact our office to have one of our knowledgeable truck accident attorneys review your case. During a free consultation, our lawyers will outline the following steps and evaluate factors that could affect the settlement amount.
Our team of reliable Ventura County big rig accident lawyers at Arash Law, led by Arash Khorsandi Esq., have extensive knowledge and experience in representing accident victims. Our firm has recovered $400 million in compensation for clients in California.
Set up a free consultation with one of our reputable attorneys by calling (888) 488-1391 or filling out our "Do I Have a Case?" form.
What Should You Do After a Big Rig Accident?
Accidents involving trucks can be dangerous or even fatal. Protecting your rights, safety, and health must come first. To ensure your safety and the appropriate handling of the situation following a truck collision, follow these steps:
Call 911 to report your accident.
Check your body for injuries. Check on the condition of other people involved.
Wait for the police in a safe area. Disabled vehicles should ideally be moved to the side of the road.
Do not admit fault when speaking with a legal or insurance authority. Instead, stick to factual information.
Get medical help right away. Even if you don't experience any symptoms, conducting tests and scans can detect possible internal injuries.
Remember that some victims might feel guilty, which might cause their insurance company to deny their claim.
Get a copy of the completed report. Send the local authorities a formal request.
Dial (888) 488-1391 to reach us and learn how our truck accident lawyers can help you.
During our free consultation, our attorneys will be available to address any queries or worries you may have regarding the outcome of your case.
Big Rig Accident Statistics
In collisions, big rig drivers and passengers are more protected than those in small cars. According to statistics, occupants in smaller vehicles have a higher risk of dying or suffering severe injuries in collisions. When a big rig or truck is involved in an accident, it can be dangerous.
In the United States in 2020, truck-related accidents claimed the lives of 4,965 people, according to the National Highway Traffic Safety Administration (NHTSA). There were 5,032 fatalities in 2019. The total number decreased by 5% in 2020. In the US, 71% of fatal car accidents involve trucks.
In 2020, 8.9% of fatal collisions in the US involved large trucks. At least 90 people were killed in truck-car collisions in California in 2015. At least 50 truck-related fatalities were reported in Texas and Florida in a year.