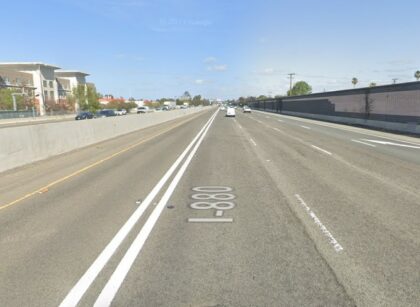 A woman was killed after a hit-and-run crash while helping a motorist involved in a separate accident in Fremont early Sunday morning, May 14, 2023.
According to California Highway Patrol, the vehicle struck the woman sometime after 2:40 a.m. on the northbound I-880 off-ramp to Highway 262/Mission Blvd.
Before the accident, a Chevrolet reportedly crashed on I-880 and blocked the ramp's lanes. At that moment, a male driver and a female passenger of a Mitsubishi assisted in moving the Chevrolet to the right shoulder of the off-ramp.
When the passenger exited the vehicle to speak with the Chevrolet driver, a Ford F-150 pickup truck suddenly drifted onto the shoulder. It rear-ended the Mitsubishi, pushing the car into the Good Samaritan woman standing between the two vehicles. She was pronounced dead at the scene.
Her identity was withheld pending notification of next-of-kin by the Alameda County Sheriff's Office coroner's bureau.
The driver of the Ford fled the scene on foot. The authorities haven't announced any arrests as of Monday. The driver of the Chevrolet was later arrested on suspicion of DUI.

Competent Hit-and-Run Accident Lawyers in Fremont
In California, hit-and-run accident victims can seek compensation by filing an insurance claim or a lawsuit. Contact our California hit-and-run accident attorneys for legal representation if you or a loved one have experienced severe injuries or death due to another party's negligence.
One of our esteemed lawyers will assess your case, lay out the following steps, and consider all factors influencing the settlement offer during the free consultation.
Our renowned Fremont hit-and-run accident attorneys at Arash Law, led by Arash Khorsandi Esq., have a wealth of experience and awards in representing accident victims. Our company obtained $500 million in compensation for our clients.
To schedule your free consultation with one of our attorneys, call (888) 488-1391 or complete our "Do I Have a Case?" form.
What to Do After a Hit-and-Run Accident
You can seek financial compensation for your losses if the driver who caused the collision does not pull over. Working with law enforcement to locate and detain the driver may improve the strength of your legal claim. Please follow these steps:
Gathering as much information as possible at the accident scene is crucial. Take pictures of or note the car's make, model, color, and license plate.
Inform the authorities about the accident. Obtain an accident report from the local police department or the California DMV. It can be used as proof to support your claim.
Gather the names and contact details of any potential witnesses.
Get medical help right away. Tests and scans may detect internal injuries even if you feel fine and have no symptoms.
Inform private insurance companies as soon as you can. Consult a reputable hit-and-run accident lawyer before agreeing to a settlement offer from an insurance company.
Call our knowledgeable attorneys at (888) 488-1391 to discuss your accident.
Fatal Hit-and-Run Accident Statistics
Failure to render aid or notify authorities of an accident is illegal in the US. Both abandoning an accident and causing it are crimes.
According to the National Highway Traffic Safety Administration, there were 737,100 hit-and-run accidents in the United States in 2015.
According to data, there is a hit-and-run accident in the US every 43 seconds. Two thousand forty-nine people lost their lives in hit-and-run accidents in 2016.
As a result, three thousand fifty-six people died in 2,948 hit-and-run collisions in California between 2010 and 2019. The state of California has one of the highest rates of this kind of accident.