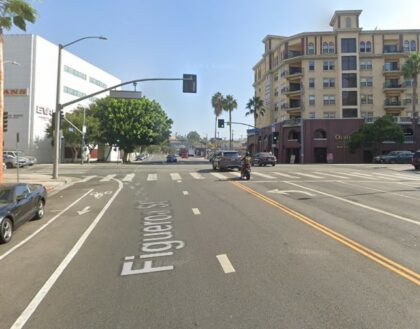 Two people were hospitalized after a single-vehicle crash along Figueroa Street, Los Angeles, on Wednesday night, May 17, 2023.
According to the Los Angeles Police Department, calls reporting the crash near Sunset Boulevard and Figueroa Street intersection came in before 8:30 p.m.
Authorities stated that a man and a woman were reportedly taken to the hospital after their SUV flew off in the 101 Freeway flyover. The vehicle plunged 50 feet to Figueroa St. below before colliding with a wall.
A witness walking his dog saw the crash and helped before first responders arrived. Los Angeles Fire Department paramedics responded to the crash and transported both occupants to the hospital in unknown conditions.
No further details have been revealed about the crash, and officials have not yet determined whether drugs or alcohol played a factor in the collision.

Renowned Car Accident Lawyers in Los Angeles
If you or a loved one have been injured in a car accident, please contact us as soon as possible so we can set up a free consultation with one of our highly renowned personal injury or wrongful death attorneys. If you have questions about submitting a claim or want to talk with one of our attorneys, please contact us immediately.
Please contact us to schedule a free consultation with one of our experienced attorneys. During a free consultation, you can discover more about your legal options, what might lower your settlement offer, and how to proceed with your case.
You can rely on our renowned Los Angeles car accident lawyers at Arash Law, led by Arash Khorsandi Esq., who have the recognition and vast experience to advocate for accident victims, with awarded compensation totaling $500 million.
Contact (888) 488-1391 or complete the "Do I Have a Case?" form on our website to schedule a free consultation with one of our lawyers.
What To Do After A Car Accident
Although no one can tell when a car crash will occur, everyone can prepare for it. Keep a checklist in your car's glove compartment to aid your recovery after an accident. It can advise you on what to do, what to avoid, and how to safeguard your rights. You can use the following guidelines:
Maintain your calm and avoid admitting responsibility. Stay where you are to keep everyone safe. Before assisting others, inspect yourself for injuries.
To report your collision, dial 911. Call the police unless the collision was minimal, with no injuries or property damage. The police can interview witnesses, collect evidence, and write a report regarding the incident.
Gather information from all parties involved. Take careful notes of the occurrence, including the weather, road conditions, and any injuries you suffered.
Do not admit guilt to the police. Give the officer an honest explanation of what happened.
Seek medical assistance. Consult a specialist or your health care provider. Receiving timely medical attention can reduce the severity of injuries.
Notify your insurance carrier. California insurance companies have varying accident reporting dates.
Speak with an insurance adjuster. You can contact a claims adjuster, but ensure you provide them with all the necessary information. You should not accept a settlement offer or consent to a recorded statement from an insurance company unless you have first consulted a lawyer.
Make a file. In a case file, collect and file all paperwork relevant to the occurrence, such as the police report, medical bills, and treatment plans for any injuries.
Seek quick legal advice from a well-known California car accident attorney.
Single-Vehicle Accident Statistics
Automobile accidents cause the most avoidable injuries and deaths in the United States. Every year, road accidents kill two million people and injure ten million others.
According to the National Safety Council, traffic deaths in the United States increased by 8.3% in 2020. These figures have declined for the last three years.
In 2019, there were 39,107 fatal road accidents in the United States. This figure is expected to reach 42,338 by 2020.
That year, 3,847 people were killed in car accidents in California. In multi-vehicle collisions, 1,587 people were killed, accounting for almost 41% of all deaths. Single-vehicle collisions killed about 2,260 people, accounting for 59% of all fatalities.
In 72% of all collisions, 71% of collisions with injuries, and 77% of collisions with injuries, at least two cars were involved. In 2020, 8,000 individuals were killed or injured in angle-collision accidents.