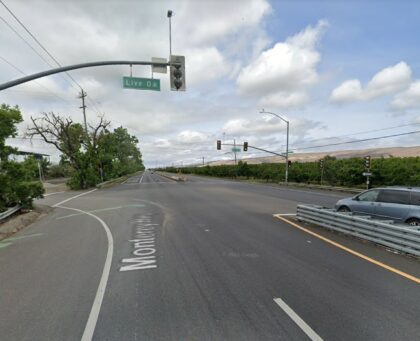 A woman suffered severe injuries following a multi-vehicle crash in South Bay, Santa Clara County, on Monday evening, May 22, 2023.
According to the San Jose Police Department, officers rushed to Monterey Highway and Live Oak Avenue at around 6:13 p.m. for a crash involving multiple vehicles.
Authorities stated that the victim was transferred to a hospital with life-threatening injuries. There has been no additional information provided regarding the number of victims or vehicles involved in the crash as of the moment.
The investigation is still underway, and authorities request that anyone with any information contact them as soon as possible.

Award-Winning Car Accident Lawyers in Santa Clara County
You qualify for a free consultation if you or a loved one were injured in a car accident. Please contact us immediately if you require legal representation. Contact our office for any query regarding client rights.
Our award-winning Santa Clara County car accident lawyers at Arash Law, led by Arash Khorsandi Esq., have the recognition and vast experience to advocate for accident victims, with awarded compensation totaling $400 million as of yet.
Contact (888) 488-1391 or complete the "Do I Have a Case?" form on our website to schedule a free consultation with one of our lawyers.
What To Do After A Car Accident
Automobile accidents can occur at any time and anywhere. This implies that we must always be prepared for the unexpected. Those who have survived severe trauma recognize the importance of being well-prepared. Knowing what to watch out for will help you ensure your safety.
If you have concerns, call us. Please contact us at (888) 488-1391. After a significant disaster, more individuals will require assistance. The following are actions you or the victim's family can take:
Relax and gain some perspective.
Find a safe and secure site.
Dial 9-1-1 and provide details, but never assume liability.
Contact your insurance company and explain the situation.
You should contact your insurance company's claims adjuster. However, before signing anything, consult an attorney.
Please contact our law office if you or a family member were injured in a car accident.
Multi-Vehicle Accident Statistics
Automobile collisions are the primary cause of accidental death and injury in America. Ten million injuries and two million fatalities are caused by automobile accidents annually.
According to the National Safety Council, fatal traffic accidents in the United States increased by 8.3 percent in 2020. After a three-year decline, this event occurred. In 2019, 39,107 people were killed in auto accidents. The following year, 42,338 people died.
Moreover, 3,847 people died in California automobile accidents in 2020. Multiple vehicles were involved in 41% of all fatal accidents (1,587 deaths, or 41% of all fatalities). 59% of fatalities were due to single-vehicle collisions.