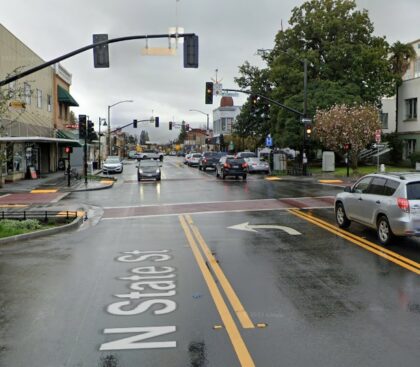 One passenger sustained injuries after an MTA bus collided with a pick-up truck in Mendocino County on Thursday afternoon, June 1, 2023.
The Ukiah Valley Fire Authority said the incident occurred around 12:45 p.m. at North State and Standley Streets.
According to the report, a collision between a Mendocino Transit Authority bus and a pickup truck in downtown Ukiah resulted in one passenger sustaining minor injuries.
The bus had two passengers onboard at the time of the collision with a full-size Chevrolet pickup truck.
Only one adult male passenger sustained a minor injury, and no other reported injuries were reported.
The investigation is ongoing.

Bus Accident Lawyers in Mendocino County
In a bus accident, it is crucial to seek the services of an attorney promptly. Insurance companies or other parties associated with the bus company might minimize the compensation you deserve.
Bus accidents tend to be more complex than car accidents since multiple parties, beyond just the driver, may bear responsibility for the injuries sustained.
You can rely on our most trusted Mendocino County bus accident lawyers at Arash Law, under the direction of Arash Khorsandi, Esq., to effectively represent you in these court proceedings. Our firm has recovered more than $500 million for California clients.
If you want to speak with one of our lawyers, please call (888) 488-1391 or fill out the "Do I Have a Case?" form.
What To Do After A Bus Accident
Being involved in a bus accident can cause injuries, property damage, and emotional distress. What steps to take after a bus accident? This guide will provide an overview of what to do after a bus accident, outlining important actions to take in the aftermath. Following these steps, you can confidently navigate the post-accident processor decisions to safeguard your well-being.
Seek Medical Attention: Your health and safety should be the top priority. Seek immediate medical attention for any injuries, no matter how minor they may seem. Some injuries may not be immediately apparent, so it is essential to get a thorough medical evaluation.
Contact Authorities: Report the bus accident to the appropriate authorities, such as the police or highway patrol. They will document the incident and create an official accident report, which can be valuable for insurance claims and legal proceedings.
Gather Information: Collect as much information as possible about the accident. This includes the bus driver's name, contact details, and company information. If there were any witnesses, try to obtain their names and contact information.
Document the Scene: Take photos or videos of the accident scene, including the damage to the vehicles involved, any visible injuries, skid marks, and road conditions. These visual records can serve as evidence later on.
Preserve Evidence: Keep any physical evidence of the accident, such as torn clothing, personal belongings, or damaged property. This evidence may be important for establishing liability and proving your case.
Report the Accident to Your Insurance Company: Notify your insurance company about the accident, even if you were not at fault. They will guide you through the claims process and may cover certain expenses, such as medical bills or property damage.
Consult with an Attorney: It is advisable to consult with an experienced personal injury attorney who specializes in bus accidents. They can evaluate your case, protect your legal rights, and guide you through the complexities of the legal process.
Bus Accident Statistics
The FMCSA has recently published new data on crash rates in 2019, revealing that three states recorded the highest number of fatalities in accidents involving large trucks and buses. Remarkably, almost one-third of all fatalities in such crashes occurred in these particular states.
In 2019, a total of 2,734 fatal crashes involving trucks and buses were reported across the United States. The preliminary report released in January 2020 indicated that these crashes resulted in the tragic deaths of 3,087 individuals.
Additionally, another 60,818 people sustained injuries in accidents involving large trucks and buses. The data also revealed that a total of 122,331 vehicles were either damaged or completely wrecked.