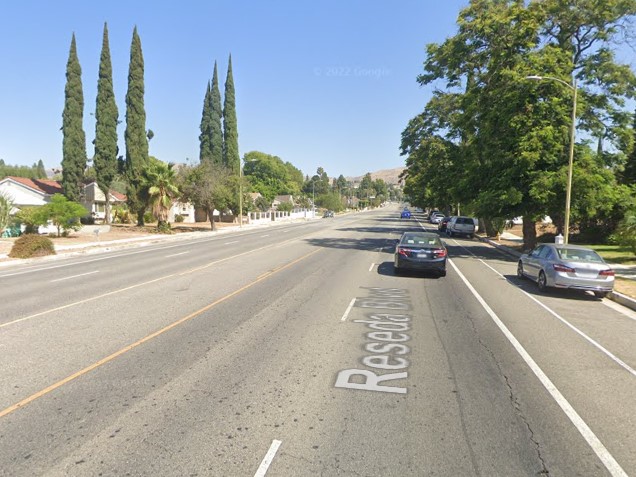 The Los Angeles Police Department reported that two people have already died as a result of a three-car collision that occurred in Porter Ranch on Saturday night, October 22, 2022.
The crash occurred shortly after 5:30 p.m. in the 11000 block of North Reseda Boulevard.
Authorities initially stated that the crash had resulted in the death of one teen and the injuries of nine additional people, six of whom were critically injured.
According to police, a 2007 Honda CRV traveling southbound on Reseda Boulevard crossed over the double yellow lines, struck a vehicle traveling north, then plowed into a second vehicle in the northbound lanes.
The collision also caused damage to a parked car.
The tragic situation was made worse by a police announcement on Sunday morning that a second young person, one of those hurt on Saturday, had passed away from her injuries.
Magnus R., the teen who was pronounced dead at the scene and was identified by his family and the Los Angeles County Medical Examiner-Coroner, was 16 years old, despite initial reports that he was 17.
A GoFundMe has been created to solicit donations for his family.
The LAPD reported that the person who passed away on Sunday was a 14-year-old girl, though her identity has not yet been made public.
According to the authorities, the two teenagers who died were passengers in a CRV that was allegedly moving at a high rate of speed at the time of the collision.
The CRV's driver is currently in the hospital and will likely be charged after being discharged.
All three occupants of the two additional vehicles involved are anticipated to survive.
Call the LAPD's 24-hour tip line at 877-527-3247 if you have any information about the collision.

Fatal Multi-Vehicle Crash Statistics
The repercussions can be devastating and long-lasting when someone is involved in a car accident. Due to the frequency with which car crashes occur, many motorists fail to appreciate the gravity of the dangers they face each time they get behind the wheel.
The high number of deaths caused by car accidents has put the United States in a critical situation. As reported by the United States Department of Transportation's Fatality Analysis Reporting System (FARS), 33,654 people were killed, and another 36,560 were injured as a result of traffic accidents.
Collisions involving multiple vehicles are extremely rare but almost always have severe consequences.
Collisions involving four or more vehicles are considered multi-vehicle collisions. Numerous people have been involved in a string of accidents that appear to be unrelated to one another. A higher body count is directly responsible for the situation's increased complexity.
According to the National Highway Traffic Safety Administration (NHTSA), multi-vehicle accidents cause one in four of all traffic fatalities. Statistics show that approximately 13,000 people per year die in such situations.
Determining fault in an accident involving multiple vehicles often requires a trip to court. Losing your case could mean giving up on ever receiving compensation for your injuries. An experienced car accident attorney is crucial to have on your side in a situation like this.
Steer into a bush or railing instead of another car if multiple vehicles are involved in a collision. Finding potential eyewitnesses to an accident is also crucial.
Los Angeles County Car Accident Lawyers
Damages sustained in an accident may be recovered from the careless driver who caused it. Liability insurance is required by law in the state of California, as it is in many others.
Talking to an attorney as soon as possible after a car accident death is crucial. Investigators are eager to get started right away. They will investigate to see if they can establish liability for the collision. Don't withhold information from your attorney that could be useful to winning your case, especially information about the accident.
People who have suffered a tragic loss in a car accident often seek the advice of a lawyer who has experience with cases like theirs.
Our Los Angeles County car accident lawyers at Arash Law are dedicated to fighting for the full and fair compensation to which our clients are legally entitled. If you need assistance progressing, we know how to give it to you.
Your case will be handled by a group of highly qualified attorneys. We recommend scheduling an appointment, which you can do by calling (888) 488-1391 or submitting an online form.