A police officer that was initially responding to a call was injured after getting involved in a car crash in Fremont on Friday evening, November 12, 2021.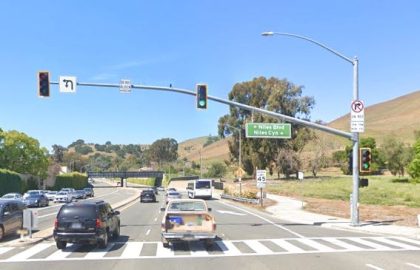 The crash happened on Niles Canyon Road west of Palomares Road in Fremont at approximately 6:00 p.m.
The officer initially responded to a call when his patrol vehicle collided with a civilian car under unclear circumstances.
The officer sustained major injuries in the mishap. He was taken to an area hospital to receive treatment. Another person was injured in the crash and drove to a nearby emergency room.
Local authorities are further investigating the cause of the accident. They will attempt to determine whether drugs or alcohol were factors in the accident.

Car Crash Statistics
The most common cause of personal injury in the United States is a car accident. Car accidents injure nearly 2 million people yearly.
Approximately 36,000 to 40,000 people die each year as a result of motor vehicle-related injuries.
Some of the busiest highways in the country can be found in California. Roads and highways in the state can become congested when tourists, large commercial vehicles, and local residents are all on their way to or from work or errands.
With many vehicles are attempting to use the same roadway, traffic congestion, gridlock, and (most importantly) car accidents are inevitable.
In California, car accidents are a leading cause of death. According to the National Highway Traffic Safety Administration (NHTSA), a total of 3,304 fatal car accidents occurred in California in 2017.
Intoxicated or distracted driving, speeding, and general traffic law violations are the most common causes of car accidents.
Alameda County Car Crash Lawyers for Victims
A permanent injury can easily cost the victims thousands of dollars in financial losses. Injuries that last a lifetime necessitate long-term medical care. A victim's medical care may extend over years, as they seek the advice of specialists, seek second opinions, and finally return to their primary care physician. Medication and assistive technology are almost certainly required (such as a wheelchair or walker).
Alameda County Car Crash Lawyers from Arash Law can help you get the compensation you deserve if you've been in a car accident and have been injured. The insurance company of the other driver is not on your side. It is their responsibility to provide you with the lowest possible compensation.
To get the best possible outcome for your case, you need a lawyer on your side. Typically, personal injury lawyers work on a contingency fee.
A portion of your compensation will be deducted from the amount you receive after your case is settled, including legal fees. Our accident attorneys from Arash Law will do everything in our power to protect your legal rights so you may concentrate on getting better. Call us at (888) 488-1391 or email us to set up an appointment.