An unidentified 56-year-old woman was killed due to a deadly auto-pedestrian accident in Ashland on Thursday night, January 14.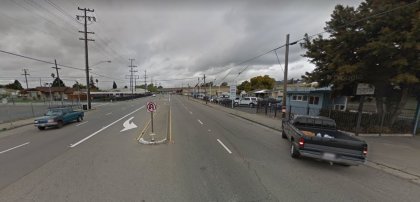 The accident took place at the intersection of Mission Boulevard and Gilbert Street in Ashland at approximately 7:30 p.m. The woman was reportedly attempting to cross the street in a crosswalk when a silver Acura MDX suddenly struck her.
Emergency personnel later arrived at the scene and attempted to perform life-saving measures on the woman. Unfortunately, she later succumbed to her injuries and was pronounced dead at the scene.
The Acura driver remained at the scene and cooperated with local authorities. He was identified as a 50-year-old man from Castro Valley.
Drugs and alcohol were not considered as factors in the accident.
Fatal Pedestrian Crash Investigation is Underway
The California Highway Patrol's Westminster office is currently investigating the possible factors that may have caused the fatal crash to happen. Witnesses that can give more information about the accident are urged to contact the CHP's Castro Valley office at 510-581-9026.
Pedestrians currently make up a large percentage of traffic fatalities in the past 33 years. According to the Governors Highway Safety Association, pedestrian fatalities in the U.S. have increased by 27 percent from 2007-2016, while other traffic-related deaths decreased by 14 percent. Some common reasons for pedestrian accidents are negligent driving, speeding, and drivers failing to yield to pedestrians.
But why are more drivers getting distracted nowadays? Due to the rise in popularity of smartphones, more drivers are occupied with their gadgets rather than focusing their vision on the roadway.
Whether the pedestrian accident involves a truck, auto, motorcycle, or bike that hit the pedestrian we are representing, Arash Law has access to considerable resources to conduct the most thorough investigations on behalf of our clients. Medical specialists in all fields of medicine are available to lend substantial support of diagnosis, prognosis, and, when applicable, a cause of death in cases where the cause of death may be in question.
Alameda County Wrongful Death Attorney for Victims of Fatal Pedestrian Accidents
It can be quite stressful and devastating to suddenly lose a loved one due to a fatal pedestrian accident. Pending the official investigation results, the victim's family is entitled to seek compensation for the accident's damages through the wrongful death claim. With the wrongful death claim, the victims can seek financial compensation for damages like loss of income, funeral expenses, pain and suffering, and emotional distress.
As experienced California pedestrian accident attorneys, we at Arash Law know how to obtain the maximum compensation available under California law for injuries and deaths to pedestrians that have been caused by negligent drivers, truck drivers, bicyclists, or motorcyclists. Pedestrians are uniquely vulnerable to being injured as compared with those in motor vehicles or even on bikes, a fact that is unfortunately particularly true in California.

Our attorneys from Arash Law are here to help you no matter what your case is. Our attorneys can also negotiate with insurance companies on behalf of their clients to ensure they are compensated fairly. You may visit our offices in Los Angeles, Sacramento, San Francisco, Riverside, Orange County, and San Diego for any inquiries and concerns. You may also call us at (888) 488-1391 today to arrange a free consultation, or use our contact form to reach us online.