One unidentified person was killed after a multi-vehicle traffic collision in Diamond Bar on Friday night, January 1.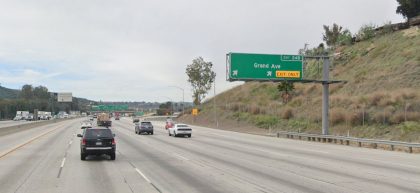 The accident transpired at approximately 9:30 p.m. on Pomona's eastbound lanes (60) Freeway at Grand Avenue in Diamond Bar. Several unspecified vehicles reportedly collided on the roadway in unclear circumstances. The exact number of vehicles involved has not been confirmed.
A dodge sedan and another black sedan were blocking the No. 1 and No. 2 lanes after the collision. A motorcyclist involved in the collision rear-ended one of the vehicles. The rider was ejected from his motorcycle due to the severity of the impact.
One person was killed in the crash. The identity of the person has not been disclosed.
Fatal Multi-Vehicle Collision Investigation is Underway
Local authorities are currently attempting to determine the cause of the accident through the official investigation.
A multi-vehicle crash typically happens when three or more vehicles are involved in a traffic collision. They are usually caused by a "chain reaction," wherein one car bumps into another, causing the other vehicle to hit another vehicle on the roadway.
Multi-vehicle collisions are commonly caused by drunk driving, speeding, and distracted driving. It can be quite challenging to pinpoint liability during a multi-vehicle collision investigation, which is why it is essential to hire an experienced Stanislaus County personal injury attorney to conduct an independent investigation.
It can be quite challenging to pinpoint liability in a multi-vehicle collision. Hiring an experienced attorney can help the victims receive the justice they deserve. Attorneys can conduct an independent investigation on behalf of their clients to determine the liability and put the responsible party liable.
Los Angeles Wrongful Death Claim for Victims of Fatal Multi-Vehicle Crashes
Losing a loved one can come as quite a shock for the victim's family. They may be left to deal with funeral costs, medical bills, and emotional trauma.
It is recommended for the victim's family to pursue a wrongful death claim with their attorney's help. Through the wrongful death claim, the victim's family can get financial compensation for medical bills, funeral expenses, and the pain and suffering they have experienced.

If you are going through a case similar to this, we at Arash Law are here to assist you. Our firm has decades of experience and has secured million-dollar settlements and verdicts for our clients. Our law firms are conveniently spread throughout California. Call (888) 488-1391 for a FREE Consultation with a wrongful death attorney from our firm.