An unidentified employee was seriously injured after a workplace accident at Los Angeles Cold Storage on Friday afternoon, November 20.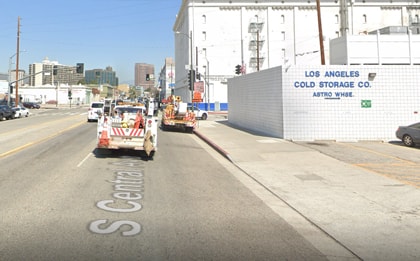 According to the local authorities' initial reports, the accident happened at around 2:20 p.m. at the Los Angeles Cold Storage frozen food warehouse along South Central Avenue.
A mobile mechanic was doing repair work underneath a big rig when, for unclear reasons, a portion of the big rig fell on the man.
The mechanic sustained life-threatening injuries from the accident. Officials with the California Division of Occupational Safety and Health later arrived at the scene.
Additional details about the accident are limited at the moment.
Workplace Accident Investigation is Underway
Local authorities are currently investigating the case. They will attempt to determine the factors and liability in the accident.
Employers in California should be wary of the work conditions of their workers. California's workplace fatality rate increased with 422 Californians dying in workplace incidents (up from 376 in 2017). Most of these workplace accidents involve transportation, such as roadway collisions, pedestrians struck by vehicles and aircraft, and rail and water vehicle incidents.
When facing cases like this, it's essential to have an experienced Los Angeles personal injury attorney conduct an independent investigation.
During the independent investigation, all possible contributing factors such as road conditions, signage visibility, and road lighting will be considered and thoroughly examined by the wrongful death attorney.
Los Angeles Personal Injury Attorney for Victims of Workplace Accidents 
It can be quite challenging to return to your everyday life after sustaining injuries from a workplace accident. After all, it can disrupt all aspects of life, such as family, work, and finances.
While waiting for the official investigation results, the victims can pursue a personal injury lawsuit with their attorney's assistance. Filing a personal injury claim is vital. It allows them to seek compensation for medical expenses, lost earnings, and non-economic damages (such as emotional trauma, pain, and suffering) to the accident victims.
Attorneys can serve as a reliable legal guide for the victims during this difficult time. They will ensure that their client's rights and best interests are protected while ensuring that the liable party will be held accountable for his negligence.

If you have a nagging suspicion that someone is to blame for your spouse or family member's death or injury, contact Arash Law. We have the resources you need to pursue justice for wrongful death and the experience to ensure fair compensation. We're conveniently located throughout California, with offices in Los Angeles, Sacramento, San Francisco, Riverside, Orange County, and San Diego, and are happy to visit you. Call (888) 488-1391 for a FREE Consultation with a personal injury attorney in California.