A 47-year-old woman identified as Racheal Heather F. was killed after a fatal pedestrian crash in Cahuenga Pass on early Monday morning, July 5.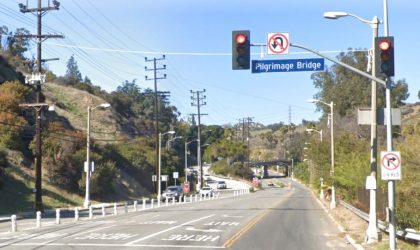 The deadly accident transpired at approximately 4:040 a.m. on the southbound lanes of the 101 Freeway, just north of the Pilgrimage Bridge. The woman reportedly got out of her vehicle to check for damages after being involved in a three-vehicle collision. As she was standing next to her vehicle, a passing 2003 Chevrolet Tahoe suddenly struck her.
Emergency personnel later arrived at the scene and found the woman lying on the roadway with serious injuries. Despite their life-saving attempts, the woman later succumbed to her injuries and was pronounced dead. Authorities were able to later able to identify the 2003 Chevrolet Tahoe driver as 22-year-old Adrian C. He sustained minor injuries from the mishap.
It was later determined that the Chevrolet driver was driving while under the influence at the time of the accident. The Chevrolet driver was arrested on DUI-related charges. The case is currently under further investigation.

Fatal Pedestrian Accident Statistics
In the United States, pedestrian accidents are one of the most deadly types of traffic accidents. This is primarily because pedestrians are extremely vulnerable to fatal injuries. After all, they do not have any form of protection in the event of an accident. According to statistics from the National Highway Traffic Safety Administration (NHTSA), the federal agency responsible for ensuring the safety of those on America's roadways, more than 5900 pedestrians were killed in 2016 across the entire United States.
California has one of the highest pedestrian fatality rates. In fact, the pedestrian fatality rate in California is 25% higher than the national average. In 2018 alone, more than 14,000 pedestrians were hurt, and 893 pedestrians were killed on California roadways. Los Angeles is the most unsafe county in the US, let alone California, for people on foot.
It was not even close; Los Angeles had double the number of pedestrians killed as the next two counties on the list, Maricopa County in Arizona and Harris County in Texas. This is no surprise given that Los Angeles has some of the worst traffic conditions in the country, with some of the country's most crowded roadways, archaic infrastructure, little to no pedestrian access in some places, and a public transit system used by very few people.
Wrongful Death Attorney for Victims of Fatal Pedestrian Accidents in Los Angeles County
The sudden death of a loved one may leave the victim's family overwhelmed and confused on what to do next. They may also be left vulnerable to manipulation by insurance companies as they are still in the process of grief. The victim's family is entitled to pursue a wrongful death claim with the assistance of an experienced attorney.
With the wrongful death claim, the victims can seek financial compensation for damages like loss of income, funeral expenses, pain and suffering, and emotional distress. A California wrongful death lawsuit must also be brought within two years of the date of the accident. A family member is precluded from bringing a wrongful death lawsuit if it is not filed within that time period.
Are you looking for a wrongful death lawyer to represent you? Please don't wait. Consult with one of our attorneys from Arash Law now. Our attorneys will also perform an immediate investigation to gather evidence while it is still available. We can also handle talks with the insurance company, calculate your damages, and use proven legal strategies during settlement negotiations and potential litigation. Call (888) 488-1391 for a FREE Consultation with a wrongful death attorney in California.