California

Traffic Accident Lawyers
PAY NOTHING UPFRONT

OVER $

500

MILLION RECOVERED

ZERO-FEES UNTIL WE WIN
You May Be Entitled to Compensation

The Best Traffic Accident Lawyers in California
If you have suffered injuries in a collision, you need an experienced traffic accident lawyer to protect your legal rights. It can be difficult to know what to say and do after a car accident – especially if you have never dealt with an insurance company before. The insurance company could use any little thing you say against you.
Insurance companies do everything they can to reduce the value of injury claims, and they have armies of lawyers who they hire to defend their valuations. For this reason, injury victims need an auto accident attorney who will fight for their legal right to compensation for all their injuries and losses.
Our firm's experienced traffic accident lawyers are here to answer all your questions. We have prepared this guide to help you understand different types of car accidents, victim compensation, and how our lawyers can protect your legal rights.
Car accidents occur in many different ways. The type of collision you suffer can affect the injuries you sustain. Your injuries, in turn, determine the amount of compensation the at-fault party owes you. Here are some of the most common types of auto accidents:
Rollovers are an especially dangerous type of car accident. In a rollover, force affects vehicles on all sides, increasing the number of injuries and the severity of injuries suffered by those in the vehicle. Rollover accidents can also result in drivers or passenger ejections. This fact, too, results in a high rate of severe injuries.
Drivers must be aware of the high risk of rolling over in certain types of vehicles. SUVs and light pickup trucks have high rollover rates, so it is important to slow down and maintain control when driving them. Be especially vigilant at night, during inclement weather, and when taking turns.
Our client was stopped at a two-way stop sign before proceeding into an intersection where he was struck by a police cruiser traveling 70 mph, resulting in serious injuries.
– 
Arash Khorsandi
Head-on collisions are another type of accident that can result in extremely serious injuries. In many cases, victims suffer head trauma from hitting the inside of the vehicle or going through the windshield. As a result, many victims of head-on collisions are killed, permanently disabled, or left with catastrophic injuries that require expensive care for an entire lifetime.
Side impact collisions often cause less serious injuries than rollovers or head-on collisions because some force is deflected away from the vehicle's occupants. Also, side-impact airbags have become a standard feature in new vehicles, and this, too, shields passengers from some of the forces of the collision. But side-impact collisions can still cause serious – and painful – injuries.
Be sure to get an opinion about the value of your claim from your traffic accident lawyer. Remember, the insurance company is trying to pay you as little as possible, so you cannot trust them to give you a fair evaluation of your injuries' value. You should only take this type of legal advice from your car crash lawyer.
Read-end accidents occur when one vehicle slams into the back of another vehicle. In many cases, the damage from a rear-end accident is significantly less serious than other types of accidents. Insurance companies sometimes try to use this fact as evidence that the accident was not that serious and that a victim's injuries could not be worth "that much."
In reality, rear-end accidents are capable of causing extremely severe injuries. They often result in whiplash, a painful condition caused by the sudden strain of the neck when it snaps like a whip in response to the collision. Whiplash can often resolve on its own with rest and mild painkillers.
But it is not always a minor issue: sometimes, rear-end injury victims have neck issues that never fully resolve. A lifetime of pain and discomfort is serious, and victims are entitled to compensation for these losses. The expert injury lawyers at Arash Law led by Arash Khorsandi, Esq. will fight to prove exactly how much the other party owes you for your losses.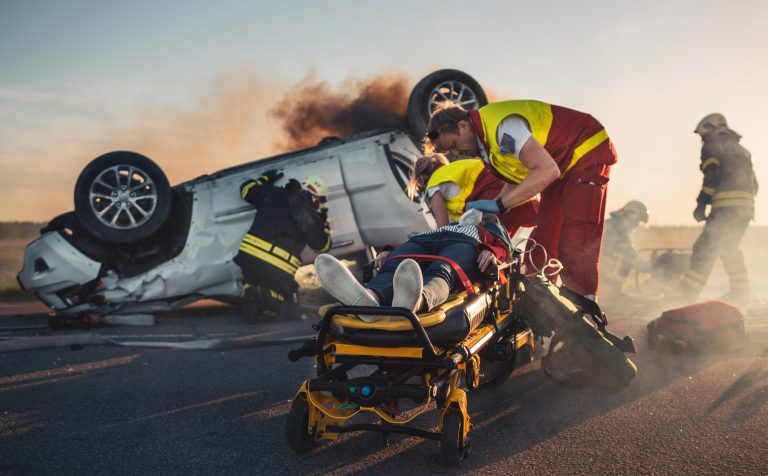 800+ Real Client Reviews Verified by Google
Accidents involving multiple vehicles are not the most common, but they can result in staggering amounts of personal injuries and property damage when they do occur. They can result in bitter legal disputes over who, exactly, was at fault for causing such a major accident. Disputes can impair your legal right to compensation for your injuries.
When there are multiple defendants and many parties involved, each person can try to blame someone else. Finger-pointing can leave an injury victim without someone to pay them for their losses. The potential for these kinds of issues is why it is important to hire your personal injury lawyer to protect your legal rights after a multiple car pile-up.
There will be many insurance companies involved, and each one is protecting its financial interests. Other injury victims might have their lawyers. The only way to protect your legal right to compensation is to be sure that you have someone fighting on your side.
Your lawyer will fight to prove who was at fault for causing the accident and what it will take to compensate you for your injuries and losses fairly. Your attorney can also protect your rights when there is not enough insurance coverage to pay for all the injuries that occurred. This scenario is common in a multiple car pile-up, as there are often multiple victims trying to access the same insurance policy.
The Compensation You Are Owed
So what compensation is fair for your injuries? Fair compensation, of course, different in every case. It depends on the type of accident you were in and what types of injuries you suffered because of it. Some of the most common damages in a personal injury claim are medical bills and lost wages.
Your attorney will gather your medical bills and records to document how you were injured and what it cost to treat your injuries. Your attorney will also get documentation from your employer about how many hours you missed due to the accident and your hourly rate of pay. If your employer pays you on a salary basis, your losses can be prorated to a forty-hour workweek.
These receipts and documents serve as concrete evidence of the value of your medical bills and lost wages. The insurance company can still challenge them, but it is easier to prove your claim with this documentation. Unfortunately, other losses are more difficult to prove.
Pain and suffering is often the largest area of compensation in a personal injury award. Unfortunately, significant pain and suffering claims usually mean that insurance companies are likely to challenge your claim. Unfortunately, it is also subjective, which means that it can be difficult to prove how much your pain and suffering are worth.
How much money will it take to compensate you for painful physical therapy sessions? What if you had an underlying medical condition that made your recovery more complicated? These are just some of the many factors determining how much compensation for pain and suffering is "fair." Experienced car accident lawyers know how to prove these claims.
They will help you document your pain by showing how much work you missed, how often you were unable to sleep, or how long it took you to recover from physical therapy or other medical treatments. If the insurance company is unwilling to make a fair settlement offer for your pain and suffering, your lawyer will prove it to a jury and let them decide how much compensation you deserve.
You are also entitled to compensation for the future losses you will suffer due to the accident. If, for example, you are permanently unable to return to work, you will suffer lost wages for years to come. Many injuries result in ongoing pain and suffering. Fortunately, these losses also entitle you to fair compensation. 
And of course, you might require medical treatment for ongoing injuries long after you file your claim, So how can you get the compensation you deserve for these losses that have not yet occurred? Auto accident attorneys work with expert witnesses to make accurate projections of the future losses injury victims will suffer. 
A Life Care Planner is a certified professional who estimates the cost of your medical care, rehabilitation, and other needs related to your injuries over your lifetime. An economist can calculate the difference in your earnings before and after the accident, then extrapolate these losses to the expected retirement age to calculate your lost wages. Lost wages should be adjusted for inflation, bonuses, and employment benefits (such as an employer's contributions to health insurance premiums or retirement plans). 
An experienced injury lawyer knows how to find these witnesses and use their reports in settlement negotiations. Suppose the insurance company refuses to accept the experts' findings. In that case, your attorney will be able to have them testify at trial and attempt to persuade a jury of the value of your future losses. You are entitled to compensation for all your losses – even those that have not yet occurred. You need an experienced traffic accident lawyer to fight for your right and prove the value of these future losses.
How a Traffic Accident Lawyer Protects Your Legal Rights
Time and again, studies have found that injury victims who have an attorney receive higher settlements than those who do not have a lawyer. There are many reasons why this is the case. You have the legal right to compensation for all your injuries and losses that someone else's negligence caused. Here are just a few of the many things your traffic accident lawyer will do to protect this important legal right:
Handle all communications with the defendant's insurance company (so you do not accidentally say or do something that could hurt your right to be compensated)
Prove that the defendant was at fault for causing the accident (this is known as "liability)
Prove the full value of your losses and the compensation that you are fairly owed
Negotiate a fair settlement with the insurance company
If the insurance company refuses to make a fair settlement offer, your attorney can file a lawsuit on your behalf. An active lawsuit is sometimes enough incentive for the insurance company to make a fair settlement offer.
Conduct discovery. Discovery is a formal legal process of finding and exchanging information with the other side. It can include witness depositions, issuing subpoenas for documents or testimony, and written questions that require formal written responses.
Address legal motions with the court. If, for example, the defense makes a motion to dismiss your case altogether, your lawyer will appear in court and make the legal argument that this is not appropriate.
If necessary, your traffic accident lawyer will take your case to trial to let a jury decide what compensation you deserve.
All of these critical tasks help protect your legal right to be fairly compensated for all the injuries and losses that the defendant caused. If you do not have an experienced injury lawyer fighting on your side at every step of the way, a defendant can get away with paying you less than you deserve – or even nothing at all.
Call Us Today to Speak with a California Traffic Accident Lawyer
The best traffic accident lawyers in California are right here. Our skilled injury attorneys have decades of experience, and we have collected over 500 million dollars for clients across the state. We serve clients in San Francisco, Riverside, San Jose, San Diego, Sacramento, Sherman Oaks, and throughout California. Injury victims all across the state trust us to protect their legal rights and fight for the compensation they deserve.
We will fight for your legal rights so that you can focus on getting better. Call (888) 488-1391 or contact us online to schedule your free consultation. The sooner you have an experienced traffic accident lawyer on your side, the better protected your legal rights will be.