One person was seriously injured after a two-vehicle collision at an intersection in Santa Clarita on Tuesday morning, May 4.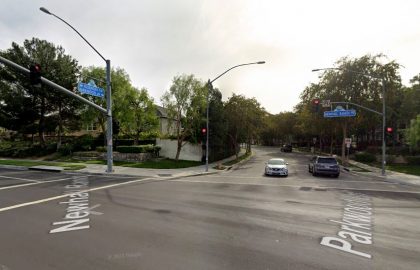 The accident took place near Hillsborough Parkway and Newhall Ranch Road at approximately 8:50 a.m.
Two unspecified vehicles collided at the intersection under unclear circumstances. How the accident occurred, and the reason why it happened has not been established.
One person was injured as a result of the collision. They were immediately taken to an area hospital for treatment.
The case is currently under investigation. Detectives are gathering more evidence to determine the cause of the accident and the liability.

Two-Vehicle Collision Statistics
Car accidents are one of the leading factors of injury deaths in California. According to the National Highway Traffic Safety Administration (NHTSA), over 3,304 recorded fatal car accidents in California in 2017.
Most intersection accidents are caused by a driver who was carelessly driving or on their cell phone and not paying attention to the road. Intersection accidents could also occur when a driver is under the influence of alcohol or drugs and/or simply speeding and passing a red light.
Since California is a 'comparative fault' state, you can collect compensation even if you played a role in the cause of the accident that you're involved in. You can rely on our relentless trial attorneys to work vigorously to assure that liability is allocated accurately in your legal case so that you get the total compensation you deserve under the law.
While it's technically possible to represent yourself in a car accident case, it is not the wisest course of action. Self-representation can put you at risk of making mistakes and missing your opportunity to recover for your damages.
Personal Injury Attorney for Victims of Two-Vehicle Collisions in Los Angeles County
Determining who the at-fault party is in an auto collision is a complicated process. Although it is easy to determine who the responsible driver is during the crash, it can be quite challenging to prove the other driver's negligence.
When facing cases like this, it's essential to have an experienced California personal injury attorney conduct a private investigation to prove the negligence of the guilty party.
Insurance companies tend to pressure their victims to settle for a quick payout even though the case is worth more. They would attempt to limit the compensation and disregard the long-term consequences and suffering that a victim might experience. Your attorney can negotiate with insurance companies on your behalf.
As experienced California pedestrian accident attorneys, we at Arash Law know how to obtain the maximum compensation available under California law for injuries and deaths to pedestrians that have been caused by negligent drivers, truck drivers, bicyclists, or motorcyclists. Call (888) 488-1391 for a FREE Consultation with a personal injury attorney in California.