A 12-year-old Autistic boy identified as Noel Bascon was killed by a DUI driver in Costa Mesa on Sunday evening, December 6.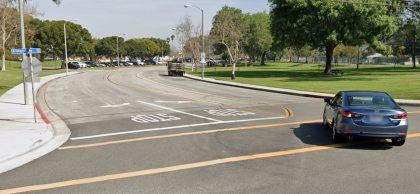 The deadly accident took place at Junipero Drive and Arlington Drive at approximately 6:00 p.m. What was supposed to be a fun bonding activity with his father turned into a tragic accident. Noel was riding his bicycle with his father when a pickup truck that failed to stop at the traffic sign struck the young boy.
A concerned passerby attempted to perform CPR on the boy while waiting for the emergency personnel to arrive. Officers attempted to perform life-saving measures on the boy and rushed him to an area hospital.
Unfortunately, the young boy succumbed to his injuries. He later died at the hospital. The driver that struck the boy was identified as a convicted robber Richard David Lavalle. Police determined that he was driving while under the influence of drugs at the time of the accident.
He was arrested at the scene on suspicion of driving under the influence of drugs. His passenger, Lee Anna Diaz Murphy, was also charged on suspicion of possession of controlled substances and unlawful drug paraphernalia.
Fatal DUI BIcycle Accident Investigation is Underway
Local authorities are currently investigating the case. They will attempt to determine the factors that affected the accident.
Driving while under the influence of alcohol or drugs is one of the most reckless and irresponsible things a driver can do. It won't just put their lives in danger, but it can potentially endanger other people's lives.
According to the National Highway Traffic Safety Administration (NHTSA), approximately 30 people in the U.S. die every day due to drunk driving accidents. Drunk driving accounts for about 29 percent of all motor vehicle accident fatalities in the U.S. Around sixty-one percent of these drivers have a Blood Alcohol Content of .08 percent or higher.
When facing cases like this, it's vital to have an experienced Orange County wrongful death attorney specializing in fatal DUI accidents to conduct an independent investigation. They can re-interview important witnesses, review relevant surveillance footage from the scene, and obtain the responsible party's phone and texting records.
Orange County Wrongful Death Attorney for Victims of Fatal DUI Accidents
It can be quite devastating and stressful to suddenly lose a loved one due to a fatal DUI accident. Pending the official investigation results, the victim's family is encouraged to pursue a wrongful death claim with their attorney's help.
The liable party will be required by law to provide financial compensation for the victim's medical expenses, lost earnings, emotional trauma, and pain and suffering.
Attorneys can serve as a compassionate, helpful guide for the grieving family during this difficult time. They will vigorously fight for their client's rights and best interests while ensuring that the liable party will be held accountable for their negligence.

If you have a nagging suspicion that someone is to blame for your spouse or family member's death or injury, contact Arash Law. We have the resources you need to pursue justice for wrongful death and the experience to ensure fair compensation. We're conveniently located throughout California with offices in Los Angeles, Sacramento, San Francisco, Riverside, Orange County, San Diego, and are more than happy to visit you. Call (888) 488-1391 for a FREE Consultation with a personal injury attorney in California.