California

Defective Airbag Attorneys
PAY NOTHING UPFRONT

OVER $

500

MILLION RECOVERED

ZERO-FEES UNTIL WE WIN
You May Be Entitled to Compensation

Defective airbags can be a fatal problem. Most of us trust that airbags will deploy in a collision, but this is not always the case. The largest auto defect recall in history involved airbag defects. Many drivers who have defective airbags in their vehicles may not even be aware that their lives are in danger.
Our trusted defective airbag attorneys fight hard to hold auto manufacturers accountable for the injuries and deaths they cause. If you have been injured in a car accident involving any type of airbag problem, it is important to get legal advice as soon as possible. You have important legal rights that must be protected right away.
Defective Airbags Are a Huge Problem
Most of the time, we are able to drive our vehicles without worrying about airbags. They only become necessary during collisions and, even then, the airbags are only triggered if there is enough force. Though you may not need your airbags often, you need them to work perfectly every time they are needed. An airbag that does not work can lead to death in an accident that would otherwise cause mild injuries.
Because defective airbags can cause such serious injuries, many manufacturers will voluntarily pay for an expensive recall rather than wait to pay injury claims and wrongful death settlements. Recently millions of vehicles were recalled because they contained defective Takata airbags. It was the largest recall of defective vehicles in history.
According to NHTSA, approximately 67 million vehicles are subject to the Takata recall because they contain airbags that can explode when they are activated. Reuters reports that there have already been nineteen deaths in the U.S. and 28 across the world as a result of the defective Takata airbags.
How Do I Know If My Airbag Has Been Recalled?
As part of their recalls, manufacturers make many attempts to reach the owners of defective vehicles. Manufacturers use their sales records to mail letters, call owners, send emails, and even do in-person canvassing to let owners know about the dangers of their vehicles. Unfortunately, these efforts are not always successful.
You can imagine how many owners change their phone numbers, move to a new address, or change their other contact information. Luckily, there are many websites that allow consumers to check the status of their own vehicles. NHTSA maintains a website where vehicle owners can enter their VIN in order to check if there are any recalls that apply to their vehicle. You can also set up keyword alerts for any news stories related to the make, model, and year of your vehicle.
April 2019: $5M settlement in a traumatic brain injury case involving a motor vehicle collision.
– 
BRIAN BEECHER
What Problems Can Make an Airbag Defective?
An airbag is designed to exact specifications that determine precisely when and how much it will inflate. Even the slightest miscalculation can be deadly in a serious collision. Common defects in airbags include:
Not deploying when it is needed – Airbags are designed to be life-saving devices. If they do not deploy when they are supposed to, a victim can suffer serious injuries (or even death) that could have been prevented by the airbag. Manufacturers are legally responsible for the costs of these preventable injuries.
Deploying when it is not needed – Airbags can fail to prevent injuries, but they can actually cause them, as well. Airbags deploy at speeds of up to 200 miles per hour. These serious forces can cause serious injuries if the airbag deploys when it is not supposed to.
Inflating too much or not enough – Because an airbag has precise design specifications, it must inflate to a very specific amount in order to be effective in an accident. If it inflates too much, the victim can be hurt by the airbag. If it does not inflate enough, the victim could suffer avoidable injuries in a collision. In either event, the airbag is defective.
Improperly sized airbags – Precision also means that airbags must be the correct size. If large airbags are put in a small vehicle, they can injure the occupants by deploying with too much force. If small airbags are put in a large vehicle, they may not inflate enough to provide protection during a collision.
Incorrect position of the airbag within the vehicle – Even airbags that are correctly sized must be placed in the correct position throughout the vehicle. For example, a side curtain airbag is a different shape than the airbag that goes inside the steering wheel. And even once the airbags are placed in the right location throughout the vehicle, they must be installed correctly to ensure that they deploy properly. Even the slightest mistake can have fatal consequences during an accident.
Airbags that are not properly tethered – Airbags are anchored into the vehicle with straps (called "tethers") that keep the airbag from inflating too far into the passenger compartment of the vehicle. Without proper tethering, an airbag can actually cause added injury to the face or eyes. Some injury lawyers have even found that manufacturers will not tether all passenger-side airbags because it costs a few extra dollars. These manufacturers must be held accountable for the injuries they cause, as well as the injuries their defective airbags fail to prevent.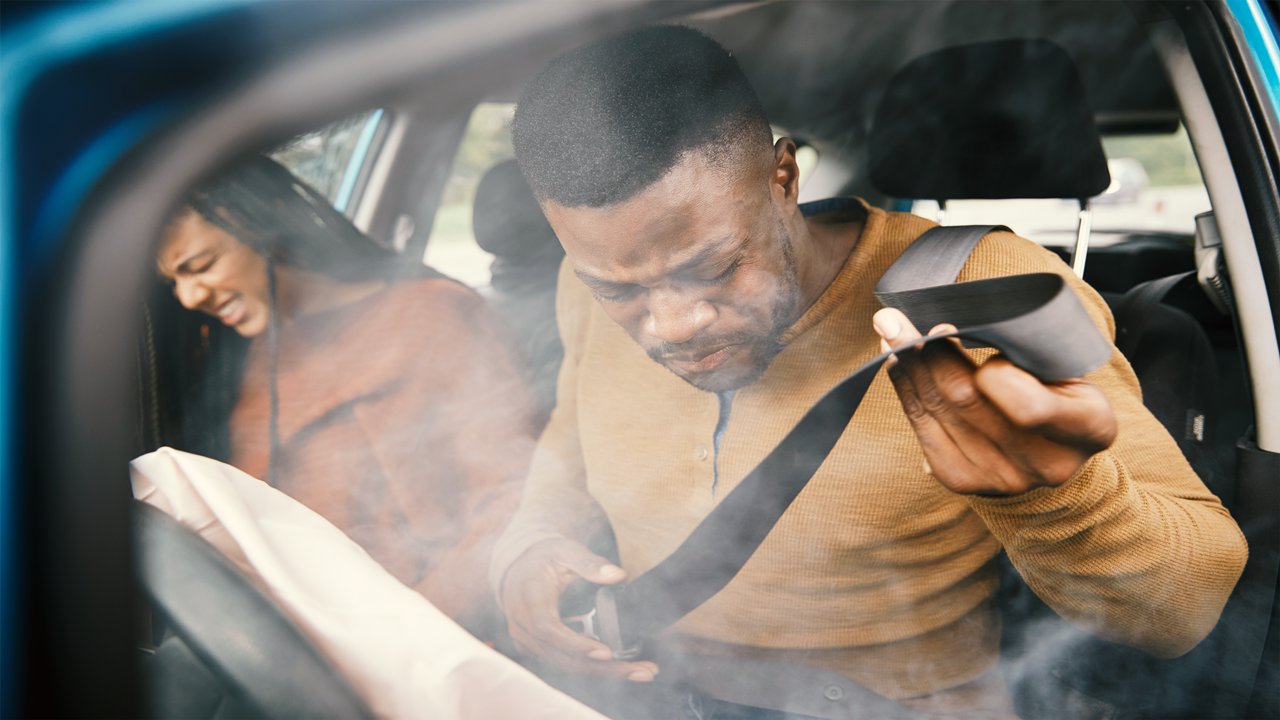 800+ Real Client Reviews Verified by Google
What Injuries Can a Defective Airbag Cause?
There are many types of injuries that one can suffer in a car accident. Some injuries are more common than others. For example, an airbag that is overinflated or explodes is likely to injure the head and face. Some injuries are also more serious (and costly) than others.
If you suffer a permanent injury from an airbag, you are entitled to compensation for your future medical bills and other losses. What follows are some of the most common injuries suffered in defective airbag accidents.
Brain Injuries
The brain controls every function of life. When it is damaged, even the most basic functions (such as breathing and keeping your heart beating) can be impaired, which is why any brain damage must be taken seriously. Even minor brain injuries, such as concussions, can be a symptom of more serious damage within the brain.
Be sure to see a doctor right away after an accident. If your head suffered physical trauma, such as hitting the windshield, you are at high risk for brain damage. You should also see a doctor about even the most minor symptoms (such as dizziness or confusion). These can be the early warning signs of serious brain damage.
Some brain damage is able to be corrected. Minor concussions sometimes resolve on their own after a few days of discomfort. More serious injuries can be treated with surgery, oxygen therapy, occupational therapy, and more aggressive interventions. But some brain damage cannot be reversed.
In the case of a permanent brain injury, the victim might be left unable to walk or speak. They might require a lifetime of in-home care or even residence at an assisted living facility. Brain injury victims are entitled to compensation for all the future care they will require as the result of a defective airbag.
They are also entitled to recover the value of the lost wages they would have earned, compensation for all future pain and suffering, and any other financial losses related to the accident. These costs are significant, illustrating is why brain injury cases are often multimillion-dollar claims involving expert witnesses and financial projections. It is important to work with a brain injury lawyer who knows how to present this complicated information to a jury.
Spinal Cord Injuries
The spinal cord also controls many important functions. If it suffers even minor damage, you could temporarily lose the sensation in a specific part of the body. You might have trouble moving your limbs.
Serious damage to the spinal cord can cause permanent paralysis. Here, too, it is important to see a doctor as soon as you notice any signs of trouble with your sensation or motor skills. The sooner you get treatment, the better your prognosis is likely to be.
3
Internal Bleeding and Organ Damage
Internal Bleeding and Organ Damage
Airbags are designed to cushion the body from the forces of a collision. When they do not, the body is subjected to the full force of impact, which can cause serious trauma to many different parts of the body. With the brain and spinal cord, there are often symptoms of trouble, which makes it easier for a victim to identify their injuries.
But there are many serious internal injuries that are far more difficult to detect. If, for example, you are bleeding internally, you might not know it until you show symptoms of shock. By this point, you have already lost a dangerous amount of blood.
A doctor can often detect internal bleeding by monitoring your blood pressure, just one example of why it is so important to seek medical attention after an accident, even if you initially feel fine. Internal damage can also occur to your vital organs. If the lungs, kidneys, liver, pancreas, and other organs are damaged, you might not notice until your bodily functions are interrupted, which can be hours or days after the accident. By then, it might be too late to repair the damage.
Orthopedic Injuries
Bones are made of strong material, so it takes a lot of force to break them, which is why broken bones are more likely to occur when a defective airbag does not protect you from the force of a car crash. Some "simple breaks" are able to heal on their own after a few weeks in a cast. (Even the simplest cases cause the victim weeks of pain and discomfort in a cast.)
More complicated cases can require surgery, even the permanent placement of pins and plates inside the body. Many complicated breaks require months of physical therapy in order to regain strength and mobility in the affected area of the body. Some broken bones can even lead to dangerous complications.
If, for example, the broken shards of bone cut a nearby blood vessel, this can cause dangerous internal bleeding. Broken bones can also cut nerves and other vital body tissue. Do not let an insurance company tell you that you are not owed much for pain and suffering due to a broken bone.
Even the simplest breaks will leave you in pain and discomfort for weeks, months, or even years. Many cases are far more complicated. Whatever injuries you suffer as a result of the defective airbag, you are entitled to fair compensation for all of them.
Soft Tissue Injuries
The muscles, tendons, ligaments, and other non-bony parts of the body are referred to as "soft tissue." Insurance companies like to say that soft tissue injuries aren't "that serious." Because there are no broken bones to see on an x-ray or brain damage to see on an MRI, these injuries are not always as dramatic as other car accident injuries. But they can be just as painful.
Imagine living for years with the pain of a weakened tendon that was seriously bruised in a car accident. In spite of physical therapy, chiropractic services, and pain management, many injury victims are left with pain and discomfort for years to come. You are entitled to fair compensation for all your pain and suffering. The experienced car accident lawyers at Arash Law led by Arash Khorsandi, Esq. are experienced in proving the fair value of a soft tissue injury claim.
A Defective Airbag Attorney Near Me for All California Injury Cases
You don't have to spend hours searching the internet for a "defective airbag attorney near me." You have already found the best auto injury law firm in California. Our skilled motor vehicle accident attorneys have decades of experience handling motor vehicle accident cases. Our award-winning legal team collected over 400 million dollars for clients across the Golden State.
Our skilled legal professionals serve clients in Los Angeles, San Francisco, Riverside, Bakersfield, Santa Barbara, San Jose, San Diego, Fresno, Sacramento, Sherman Oaks, and throughout California. Clients all across the state trust our team to protect their legal rights. We will fight hard for you, too, and protect your right to be fairly compensated for all your injuries and losses. Call (888) 488-1391 today to schedule your free consultation.