An unidentified person was injured after their bicycle was struck by a vehicle in Coachella on Monday afternoon, January 11.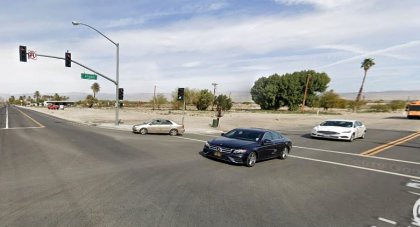 The accident transpired at around 3:20 p.m. at the intersection of Airport Boulevard and Highway 86 in Coachella. The bicyclist was struck by an unspecified vehicle at the intersection for unclear reasons.
Why the collision occurred and how it happened has not been established.
The bicyclist sustained a minor head injury from the crash. It's unclear whether they were hospitalized.
Details about the accident are limited at the moment.
Bicycle Accident Statistics
Although various laws now protect bicyclists in the U.S., bicycle accidents are still an inevitable occurrence. In 2018, approximately 800 bicyclists in the U.S. were killed, with California leading the nation in the most number of bicycle crash deaths annually.
Bicycle crashes often happen in urban areas, where cars and bicycles interact the most. Cars hitting bikes is the leading cause of bicyclist injuries and deaths throughout the state. Statistics show that California leads the nation in the number of bicycling crash deaths per year. The majority of these crashes occur in urban areas, where cars and bicycles interact most often. Cars striking bicycles is the number one cause of bicyclist injuries and deaths throughout the state.
In many of these cases, the driver failed to yield the right of way, didn't check for bikes before pulling out, ran a stop sign or red light, or wasn't paying attention while driving. It is not always possible to avoid a crash when a car's driver acts negligently or recklessly. After an accident, don't wait to speak to an attorney. No matter the extent of your injuries, you deserve to discuss your eligibility for compensation with an experienced personal injury lawyer.
Personal Injury Attorney for Victims of Major Bicycle Accidents in Riverside County
In a collision between a bicycle and a motor vehicle, the vehicle always wins. Bicyclists are what the law calls "vulnerable road users," or those at the highest risk of injury in an accident. Even with bicycle helmets, bicyclists can sustain severe and life-threatening injuries in collisions with vehicles. Common bike accident injuries include broken bones, road rash, head and brain injuries, crush injuries, and internal organ damage.
Dealing with injuries after a significant bicycle accident can be quite challenging. While waiting for the official investigation results, the victims are entitled to pursue a personal injury claim with their attorney's assistance. The victims will demand financial compensation for their medical expenses, lost earnings, emotional trauma, and pain and suffering through the personal injury claim.

If you or someone you love was recently involved in a bicycle accident in California, come to Arash Law. We have experience representing clients in these scenarios. Please pay our offices in Los Angeles, Sacramento, San Francisco, Riverside, Orange County, and San Diego a visit for inquiries and questions. You may also contact us at (888) 488-1391 for a FREE Consultation.