An unidentified pedestrian was injured after getting struck by a passing vehicle at an intersection in Sacramento on Sunday evening, April 18.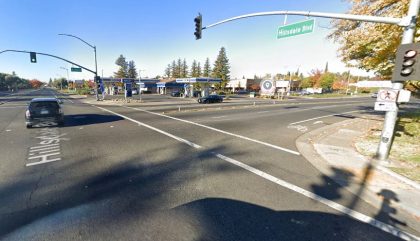 According to the initial reports from the California Highway Patrol, the accident took place at Hillsdale Boulevard and Walerga Road at around 7:35 p.m.
A red Ford Focus struck the unidentified pedestrian at the intersection for unclear reasons.
The victim was rushed to an area hospital with serious injuries. The identities of the involved parties have not been disclosed. Additional details about the accident are unavailable at the moment.
Local authorities are currently investigating the case. They will attempt to determine the factors and the liability in the accident.

Pedestrian Accident Statistics
Pedestrian accidents are more likely than other types of accidents to involve death given how unprotected pedestrians are when compared to, for example, an accident involving two motor vehicles where both sides to the crash have not only seatbelts and airbags to protect them but a multi-ton vehicle as well.
Approximately 110,000 pedestrians are injured every year in the U.S. According to the National Highway Traffic Safety Administration, 6,227 pedestrians were killed in 2018, which had a 250 increase from the previous year.
California is one of the leading states when it comes to pedestrian accident cases. The pedestrian fatality rate in California is almost 25% higher than the national average. In 2018, 893 pedestrians were killed while 14,000 people were injured in California alone. Pedestrian accidents are typically caused by distracted driving, speeding, intoxicated drivers, and drivers failing to yield the right way.
Personal Injury Attorney for Victims of Pedestrian Accidents in Sacramento County
Pedestrian accidents can cause serious injuries for the victims, possibly rendering them temporarily disabled.
In California, there exists a legal concept known as the statute of limitations. According to California law, you must file a pedestrian accident lawsuit within two years of the date of the accident. If you miss the deadline, you are precluded from ever pursuing a lawsuit to recover compensation for the injuries you sustained in a pedestrian accident.
This can be quite stressful for the victims if they are planning on dealing with their case alone. A pedestrian accident lawyer from Arash Law will help you stay one step ahead of the insurance company or responsible party and avoid mistakes that would jeopardize your claim.
Our attorneys will also perform an immediate investigation to gather evidence while it is still available. We can also handle talks with the insurance company, calculate your damages, and use proven legal strategies during settlement negotiations and potential litigation. Call (888) 488-1391 today to arrange a free consultation, or use our contact form to reach us online.