An unidentified 30-year-old man was killed while two others were hurt after a multi-vehicle traffic collision in Phelan on Saturday afternoon, January 9.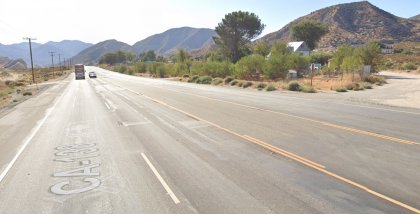 According to the California Highway Patrol's initial reports, the accident occurred on Highway 138, east of Wimmer Road, around 12:20 p.m. A 2003 Honda was initially traveling eastbound on the highway when the driver suddenly lost control and struck a 2010 Lexus in the eastbound lanes. The driver was reportedly driving at high speed.
The Honda then veered into oncoming traffic and collided with a 2016 Ford. It then continued to travel in the westbound lanes, where it crashed into a 2012 Jeep. The 30-year-old man who was a passenger in the Honda was ejected on the roadway. He was seriously injured and was taken to Arrowhead Regional, where he was later pronounced dead.
The Honda and Ford driver were both injured as a result of the crash. They were transported to nearby hospitals for treatment. An active investigation on the case is currently on-going. People that can give additional details about the crash are encouraged to contact Officer D. Stillmunks at the CHP San Bernardino Office at 909-383-4247.
Fatal Multi-Vehicle Collision Investigation is Underway
Motor vehicle accidents are one of the leading factors in unintentional injury deaths in California. According to the National Highway Traffic Safety Administration, there were 3,304 fatal car accidents in California in 2017. In 2018, 48 over 100,000 people died from their injuries on average in California.
These accidents are caused by various reasons, such as distracted driving, drunk driving, and driver over-fatigue.
Facing cases like this alone can be quite challenging. With the help of an experienced San Bernardino County wrongful death attorney, the victims and their families won't need to deal with the stressful paperwork that comes with filing a claim.
Attorneys have the resources that can help them prove the negligence of the liable party. They can utilize their resources to re-interview important witnesses, review relevant surveillance footage from the scene, and obtain phone and texting records of the responsible party. Attorneys can also conduct an independent investigation to help the victims receive the justice they deserve.
Wrongful Death Attorney for Victims of Multi-Vehicle Collisions in San Bernardino County
Dealing with a sudden loss of a loved one due to a fatal head-on collision can be quite overwhelming and stressful.
While waiting for the official investigation results, the victim's family is entitled to pursue a wrongful death claim with their attorney's help. Attorneys can help their clients receive financial compensation for their medical bills, funeral expenses, pain and suffering of the victim's family, wages the decedent would have earned in their lifetime, and loss of companionship.

If you believe you have grounds to file a claim, retain a local car accident attorney in California near you who can help you navigate car accident laws. Arash Law has decades of experience throughout California and has secured million-dollar settlements and verdicts for our clients. Our car accident team can investigate your crash, identify the potential defendant(s), and file your claim with the civil court system as quickly as possible. Don't delay – you're just a phone call away from learning your legal options. Call (888) 488-1391 or get in touch online to schedule a free case evaluation.